Save Vietnam's Wildlife (SVW) is pleased to announce our upcoming two-year project (from 2023 to 2025) in collaboration with Cuc Phuong National Park and Pu Mat National Park. The project, funded by Welttierschutzgesellschaft e.V. (WTG), aims to enhance animal welfare for confiscated wildlife, raise awareness about poaching, and provide ongoing animal welfare education for children in Vietnam.
The project will focus on three main activities. Firstly, we continues to rescuing, rehabilitating, and releasing confiscated pangolins and other wildlife species seized from illegal trade. This crucial effort will provide these animals with the necessary care and support to ensure their successful rehabilitation into their natural habitats.
Secondly, join me in protecting Pu Mat forest. SVW will work with local communities in key wildlife poaching hotspots to raise awareness and reduce the impact on sites where pangolins are released in Pu Mat National Park. The activity aims to combat poaching and protect these important habitats by fostering a sense of responsibility and understanding.
Lastly, support and promote the organization of experiential education programs in Cuc Phuong National Park. Through these programs, SVW seeks to engage local schools and provide children with valuable opportunities to learn about wildlife conservation, animal welfare, and the significance of preserving Vietnam's diverse ecosystems.
SVW's veterinarian is preparing to perform a surgery on a Large Indian Civet at the rescue center in Cuc Phuong National Park. Photo © SVW
The project's primary objectives are to increase animal welfare by providing proper care and rehabilitation for confiscated wildlife, raise awareness among local communities about the negative impacts of poaching and the importance of protecting wildlife, and actively involve local schools in educational programs that promote wildlife conservation and inspire a sense of responsibility towards preserving Vietnam's unique wildlife.
Every year, SVW rescues between hundreds wild animals from illegal trade at the Cuc Phuong National Park and Pu Mat National Park rescue centers. These animals suffer from dehydration, malnutrition, diseases, and wounds inflicted by traps. The quarantine period, overseen by caretakers and veterinarians, lasts at least one month, with pangolins requiring three months of care. Continued support is vital for our ongoing rescue efforts and for expanding their capacity to work with multiple species. Additionally, our 2018 social research survey show that indigenous people, whose livelihoods depend on forests, comprise most wildlife hunters in Pu Mat. They face poverty and lower education levels, with a significant portion displaying apathy towards wildlife hunting consequences. Reporting such crimes is rare due to the belief that wildlife hunting is a legitimate profession. We recognize the need for sustainable education and outreach programs to raise awareness and reduce wildlife poaching and illegal trade. We aim to create a core force of teachers, education officers, rangers, and anti-poachers to protect Pu Mat forest and carry out awareness activities for local communities.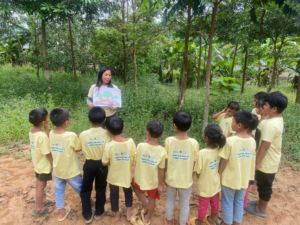 A day of nature experience at Pu Mat National Park, a school activity sponsored by WTG in 2022. Photo © SVW
Welttierschutzgesellschaft (WTG) has been a vital supporter of SVW since its establishment in 2014. Their generous sponsorship has played a crucial role in enabling SVW to achieve significant milestones, including the rescue and release of confiscated pangolins, the establishment of the first Carnivore and Pangolin Education Center in Vietnam, and the organization of wildlife conservation education programs for primary schools and preschool in the buffer zone of Cuc Phuong and Pu Mat National Parks.
"We extend our sincere gratitude to Welttierschutzgesellschaft e.V. (WTG) for their invaluable support and contributions," said Thai Van Nguyen, founder of SVW. "Through this upcoming project, we hope to secure a brighter and more sustainable future for Vietnam's precious wildlife."