8 OUT OF 17 TIGERS DIED AFTER BEING RESCUED IN NGHE AN, BUT IT MIGHT NOT BE AS NEGATIVE AS YOU THINK. IN TERMS OF CONSERVATION, SAVE VIETNAM'S WILDLIFE WOULD LIKE TO SHARE OUR VIEWS ON THIS INCIDENT AS BELOW.
For the last few hours, this incident has aroused much controversy among the people with many questions and mixed opinions. As a wildlife conservation organization that always tries to ensure welfare for animals, we would like to send our deepest sympathy regarding this loss. We also understand and acknowledge the reasons leading to the reactions of many people online. Most of you must have hoped that the tigers will be released so that they will have a happy life in the forests or be transferred to huge Safari parks to enjoy their new life after being imprisoned in the dungeon. It's also the desire of all departments of the authority and individuals who are currently taking part in the fight against illegal wildlife trade. The reason behind the death of 8 tigers has not been identified. While waiting for the confirmation from the police, we should keep a cool head and look at the following facts.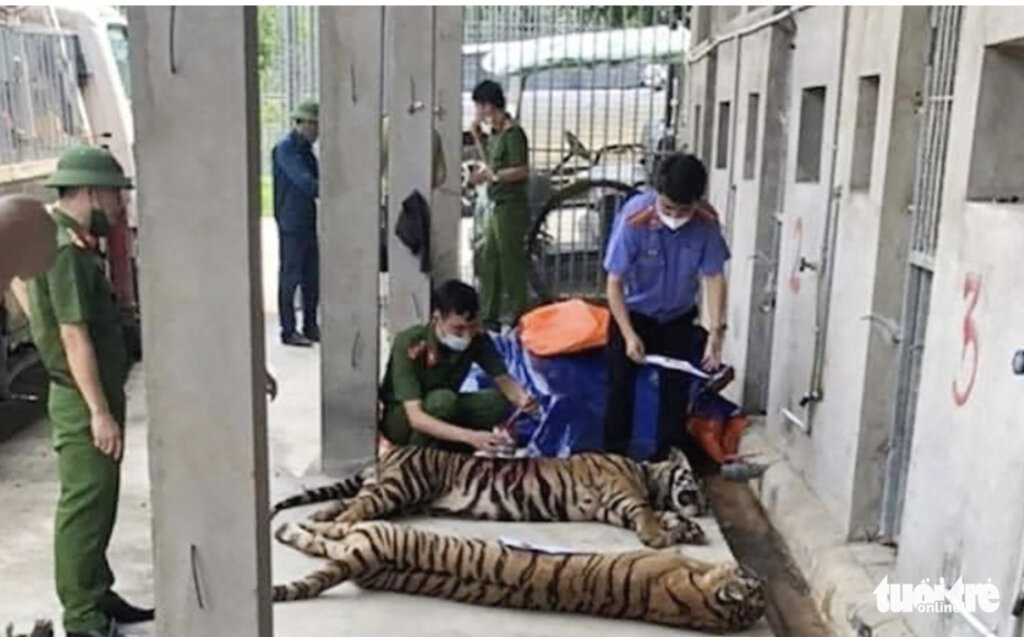 17 tigers rescued on 04 Aug in Nghe An Province. Photo: Tuoi Tre Online.
❗️❗️❗️ THE TIGERS CANNOT BE RELEASED BACK INTO THE WILD – IT IS UNPRECEDENTED FOR A CAPTIVE TIGER TO BE RELEASED
Tigers in captivity do not have or have lost the ability to hunt and survive, resulting in their extremely small chance of survival when released back into the wild. Did you know that the tiger is one of the species at the top of the food chain? To survive, they need the skills of running, hunting, stalking, and defending the territory. The tigers confiscated this time were born in captivity. They are overweight and have lost all their wild instincts and natural behaviours.
The release of these tigers back into the wild increases the risk of tiger attacks and endangers humans. Due to the inability to hunt, plus being used to humans, tigers after being released will tend to come near the residential area to seek for food, possibly pets or even humans. Therefore, releasing tigers can pose many threats to human lives. With that being said, no organization or individual dares to take the risk.
In addition, the released tigers can bring negative effects to the wild tiger population and other animals. Recessive genes of individuals born of inbreeding can affect and cause undesirable changes to the natural genetic resources. In addition, pathogens arising from illegal captive breeding, transportation and trade can spread dangerous diseases to wildlife and humans.
❗️❗️❗️ ARE THERE ANY CHANCES FOR THE TIGERS TO BE RELEASED IN SEMI-WILD SANCTUARY OR SAFARI PARK FOR EDUCATION PURPOSES?
It can be seen that the most appropriate and humane solution for the tigers at the moment is handing them over to qualified establishments that have the capacity and facilities to ensure the best animal welfare for them. Through the tourism activities of these establishments, the tigers will have a chance to live a better life with better care, and it can also be a way to raise people's awareness about wildlife conservation.
However, in fact, there are not many agencies that have the ability to receive these individuals. Most big zoos and safari parks in Vietnam have reached the maximum number of tigers in their capability. Moreover, the cost for food, health care and maintenance of suitable habitat for tigers is extremely high. They are a great burden that have really challenged the transferring and taking over of animals after being confiscated. The same goes with other Wildlife Rescue Centers managed by government agencies or non-profit organizations. Most centers have limited areas, and they only have capacity to receive a certain number of animals, so they cannot accept all the animals that need life-time support.
❗️❗️❗️ MORE THAN EVER, WE NEED TO LOOK AT THE PROBLEMS RELATED THE CONFISCATED TIGERS FROM DIFFERENTS POINTS OF VIEW, AND AT THE SAME TIME NOT LET THESE ILLEGAL TIGER FARMS CONTINUE TO EXIST
The investigation revealed that the confiscated tigers had lived for a long time in unsuitable environments with improper care and food. Each mature individual with an average weight of 200 – 250kg has to live in a cramped and moldy cage, with no sunlight and no animal rights. These living conditions have seriously affected their physical and mental health, increasing the risk of diseases such as obesity, osteoarthritis, cardiovascular and depression. Do the "kings of the jungle" deserve to endure a life-long living in confinement?
The problems related to the confiscated tigers are unexpected. In the circumstances when there are mixed opinions and fake news online, more and more people start to have thoughts that favor illegal farming facilities and blame the authorities for the tigers' deaths, as "in the farm, at least the tigers would still be alive". We understand that these thoughts stem from their love for animals. However, people must understand that the illegal captive purpose is to serve the needs of certain groups of people to use tiger products. And the inevitable end for those tigers is to be slaughtered, skinned, cooked, drenched in alcohol, with teeth and claws being removed. That is the truth, the reality that lies inside those farms, and it is a must to have a more moderate view and to determine what are the most humane solutions for these individuals.
The possession and trade of tigers and tiger products are illegal acts and are subjected to criminal sanctions under the Vietnamese law. Therefore, your support for illegal tiger farming facilities means that you do not respect the law enforcement system in Vietnam, and you are indirectly supporting wrongdoings, causing serious and long-term consequences for tiger conservation in Vietnam and in the world.
❗️❗️❗️ THE BRAVERY AND WISENESS OF NGHE AN POLICE IN ARRESTING THREE WILDLIFE CRIMINAL CASES, CONFISCATING 24 TIGERS AND 4 PANGOLINS – AN ACHIEVEMENT DESERVED TO BE ENCOURAGED AND PRAISED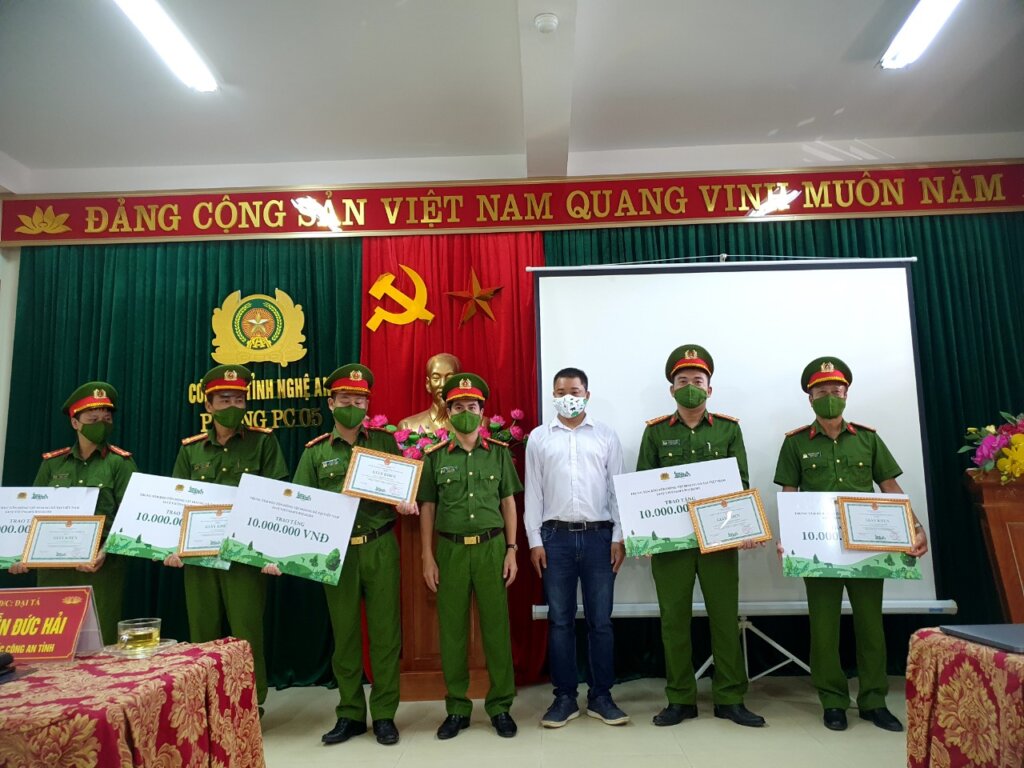 Nghe An Police arrested three wildlife criminal cases in three consecutive days in the beginning of August 2021. This effort and achievement have shown a great determination of law enforcement officials in the fight against crimes related to the illegal trade, transportation and captures of tigers in Viet Nam. The Investigation team revealed that they secretly followed, ambushed, and seized offenders in such high pressure and dangers that could be only understood by people who got involved in the process. Previous investigation results showed that in the past, the violators often made a scene to attract many people to cause trouble, obstruct and put pressure on the authorities. Therefore, this case was conducted quickly to avoid their opposing actions.
To keep the investigation secret, police officers carefully seeked for trustworthy people and maximized local resources. Due to time pressure and current Covid-19 restriction regulations, it is impossible to get the support of veterinarians with expertising in tigers to come to the arresting site. Given the large number of confiscated tigers, together with limited local resources, it is difficult to demand absolute perfection in all stages before, during, and after the incident.
After confiscating 17 mature tigers and 7 tiger cubs, Nghe An Police made their best efforts to seek any possible placement solutions and qualified facilities to raise and look after those tigers. However, many organisations couldn't receive the tigers due to some objective reasons. In the end, their efforts paid off when Muong Thanh Dien Lam Ecological Area accepted these confiscated tigers. Besides the pressure related to the placement issues, the police officers must seek funds for food and care for those tigers.
Facing those pressures, the Nghe An Police still determined to successfully arrest three big wildlife criminal cases in just three days. This achievement is particularly important in the fight against wildlife crimes. Only if the consumption of tiger products and the illegal trade, transportation and possession of tigers are prevented can conservation of tigers be effective. We acknowledge the efforts of Nghe An Police and wish them to continue to be confident and decisive in the work of sweeping and handling illegal crimes of trading, transporting and capturing wild animals in the area to join hands in wildlife conservation in Vietnam.
SINCERELY!
SVW team.
---
**************