On 13-14 May 2023, SVW, in collaboration with Pu Mat National Park, accomplished a remarkable feat by releasing 65 big-headed turtles (Platysternon megacephalum) back into the wild.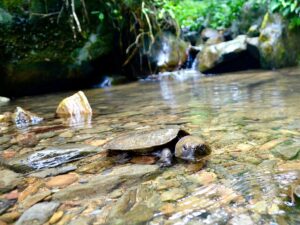 The big-headed turtle has a wide distribution in flowing streams at elevations 600m above sea level. Photo © SVW – Pham Thong.
These large-headed turtles are among the 127 individuals rescued by SVW in collaboration with Pu Mat National Park from illegal trafficking cases in Nghe An province in December 2022 and April 2023. After coming to the rescue center, some individuals died from injuries sustained during illegal trade and transportation.
The dedicated efforts of SVW and Pu Mat National Park have ensured the safe return of these magnificent creatures to their natural habitat. Each release contributes to protecting endangered species and strengthens our commitment to protecting wildlife.
An additional 55 individuals are currently under the care of Pu Mat Rescue Center, awaiting their turn to be released into the wild. With patience and expert guidance, these turtles will soon join their counterparts, strengthening the population and enhancing biodiversity in the region.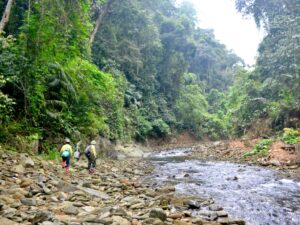 On the way to the release site. Photo © SVW – Pham Thong.
The big-headed turtle
(
Platysternon megacephalum
)
is the only species within 
the  
Platysternidae 
turtle family. Its extinction would result in the loss of the entire family. Additionally, this species holds a Critical Endangered status according to the IUCN Red List and faces significant threats from exploitation. The risk of extinction is alarmingly high. Strong protection is afforded to the big-headed turtle under Decree 160/2013/NĐ-CP and Decree 06/2019/NĐ-CP to recognize its conservation importance. Violations related to this species can lead to severe legal consequences, including imprisonment.