On June 16, 2023, Save Vietnam's Wildlife (SVW) collaborated with Cuc Phuong National Park and the Criminal Investigation Agency of Hoa Binh Province to rescue a rare Chinese pangolin.
According to the information provided by the Hoa Binh province police, they stopped a local man while he was transporting a Chinese pangolin on a motorbike from Yen Tri commune to Hang Tram town, Yen Thuy district, Hoa Binh province. The Criminal Investigation Agency of Hoa Binh province, in collaboration with the Traffic Police Team of Yen Thuy district, apprehended the suspect in the early afternoon of June 15. The suspect admitted to purchasing the pangolin from a resident in Ngoc Luong commune, where they hunt in the forest. Furthermore, the suspect had a history of keeping and trading wild animals. Currently, the suspect is in custody, awaiting further investigation and trial.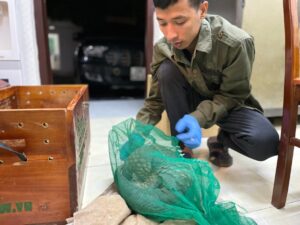 We immediately set out to bring the Chinese pangolin back during the night. Photo © SVW
After seizing the evidence, the police brought the Chinese pangolin to the Institute of Ecology and Biological Resources in Hanoi for evaluation. On the same day, they contacted SVW to arrange for the handover and care of the rescued pangolin. Upon receiving the information, SVW's Rapid Response Team promptly coordinated with Cuc Phuong National Park and set out on the night of June 15, 2023, to bring the pangolin to the rescue center.
The rescued individual is a male Chinese pangolin weighing approximately 6kg. He was in a stressed condition but showed no signs of serious injuries. "Upon receiving the information, we made every effort to transport the pangolin to the center to ensure its health. We received enthusiastic support from the Criminal Investigation Agency of Hoa Binh province," shared Tran Van Truong, the Rescue Coordinator of Save Vietnam's Wildlife. Chinese pangolins are rare, and their population in the wild is decreasing.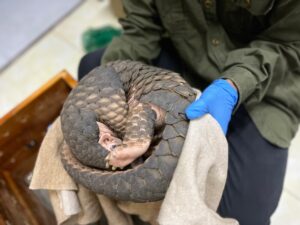 Due to their high value, people often capture them for illegal trade rather than personal use. Photo © SVW
Recently, there has been increased attention towards wildlife conservation, with new legislation and amendments to existing laws related to protecting wild animals. Authorities have implemented specific provisions and stringent regulations to address the illegal trading, hunting, and transportation of wildlife. However, there remains a significant gap in addressing the unlawful use and consumption of wildlife in various laws and regulations, such as the amended Penal Code of 2015, the amended Biodiversity Law of 2018 (32/VBHN-VPQH), the Forestry Law of 2017 (16/2017/QH14), Decree 35/2019/NĐ-CP, Decree 160/2013/NĐ-CP, Decree 64/2019/NĐ-CP, Decree 06/2019/NĐ-CP, and Directive 29/2020/CT-TTg. This poses challenges for law enforcement agencies in handling related cases and prosecutions. The term "use/consumption of wildlife" is often omitted or lacks precise definitions and penalties in legal regulations.
To effectively combat the illegal hunting of wildlife and protect the biodiversity of Vietnam requires the collective efforts and cooperation of relevant authorities and conservation organizations. Specific definitions and accompanying penalties must be established to address cases related to the unlawful "use and consumption of wildlife."