SAVE THE MOST ILLEGALLY TRAFFICKED MAMMAL IN THE WORLD!
Rolly was poached by a snares trap, transported to a van with five other pangolins, and stuffed inside a box. She was rescued and brought to the Pu Mat Rescue Center for treatment in late August 2020. Her health gradually improved, but her necrotic leg got worse. The vet took her to Cuc Phuong to have her hind leg amputate. They discovered she was pregnant during an examination of the incision and an ultrasound. Chie was born four months later, on the third day of Jan 2021.
In June 2021, Rolly and her baby were transferred to the semi-wild area for training and assessment of being released back into the wild. That's when we knew she had difficulties moving and climbing in search of food. She couldn't be released back to the wild with her daughter in Feb 2022. Our animal keepers often call her Chie's mother. She is very shy and loves sleeping on straw mattress.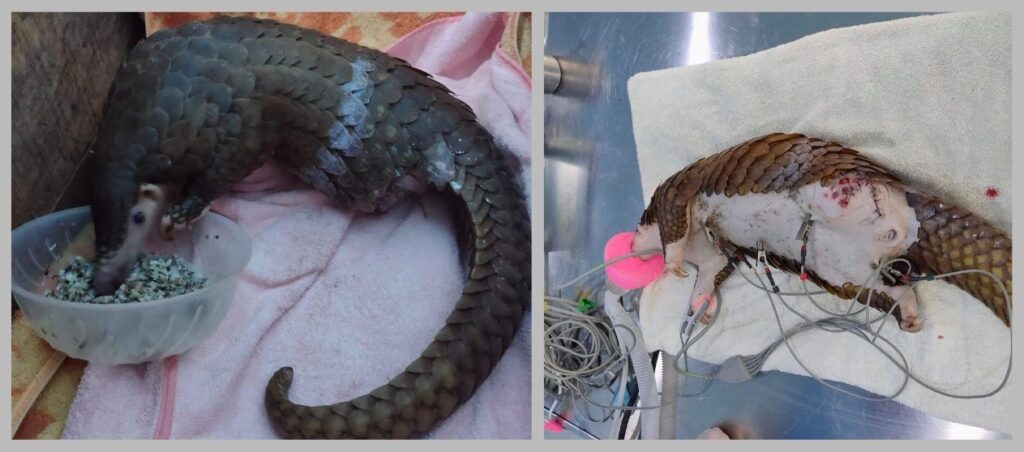 WITH ONLY A YEARLY $50, YOUR SYMBOLIC ADOPTION SUPPORTS SVW REHABILITATION EFFORTS FOR ROLLY AND OTHER RESCUED PANGOLINS
David Golden
The victimization of the pangolin breaks my heart. As wild species disappear our own time on earth is threatened.
HOW YOUR ADOPTION HELPS?​
Releasing rescued animals doesn't happen overnight, and unfortunately our educational animals aren't ever going to be released due to the injuries they have suffered as victims of the illegal wildlife trade.
With your symbolic adoption, you will support us to provide excellent care for not only Polly and permanent residents at our place, but also other rescued pangolins in quarantine waiting to be released. This can include:
YOU'LL GET AN ADOPTION PACKAGE
& LOTS OF LOVE FROM ROLLY
YOU WILL RECEIVE THE PACKAGE SENT DIRECTLY TO YOUR EMAIL OR THE PERSON'S EMAIL YOU DEDICATE THIS ADOPTION TO, WITHIN 1-3 WORKING DAYS.
OTHER ANIMALS NEED YOUR HELP