On June 8th, 2022 (Vietnam time), in Washington D.C., Thai Van Nguyen, SVW's founder and Executive Director, was one of 15 people to receive a National Geographic Society 2022 Wayfinder Award. A full list of award winners can be found here.

The Wayfinder Award recipients will become a National Geographer Explorer, receiving a $50,000 prize allowing them to continue their work.
SVW's founder was recognized for his dedication to the protection of Vietnam's wildlife and habitat. He has established two pangolin rehabilitation centers (Cuc Phuong and Pu Mat National Parks) and has also established an anti-poaching unit that trains government rangers in wildlife conservation, animal identification, GPS skills, and drone technology.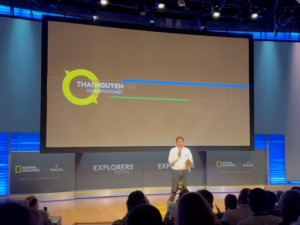 Nguyen Van Thai spoke at the stage of National Geographic Explorers Festival. Photo @SVW.
The 2022 Wayfinder Award (previously Emerging Explorer Award), recognizes individuals who have engaged in pioneering work that challenges the most entrenched stereotypes in the animal kingdom, focuses on inclusive and community-based conservation, blends social justice with ecological scientific research, and promotes racial literacy in education.
They have proven themselves to be the next generation of influential leaders, communicators, and innovators who utilize new technologies, research, and storytelling that help provide a greater impact in protecting our world's wonder.
Their work demonstrates the power of science, and its ability to help inspire people to learn more about, caring for, and protecting the planet. National Geographic stated in their announcement of the winners that "They are leading a new age of exploration through science, education, conservation, technology, and storytelling".