SVW successfully released 15 Sunda pangolins back into the wild on April 19, 2023, bringing the total number of pangolins released by SVW to 22 since the beginning of the year.
SVW collaborated with Cuc Phuong National Park and Pu Mat National Park to release the pangolins that were all confiscated from illegal wildlife trade throughout Vietnam. The pangolins had undergone a long period of care and rehabilitation at the rescue center and were deemed ready for release, with the longest resident having been in captivity since the beginning of 2022.
Three of the 15 pangolins were pregnant, and one was born in captivity. The release was completed in one day and one night.Due to landslides on the road caused by heavy rain before, the pangolins were transferred from transport boxes to cloth bags to ensure the safety of both the animals and the release team. They were transported to the release site by motorbike.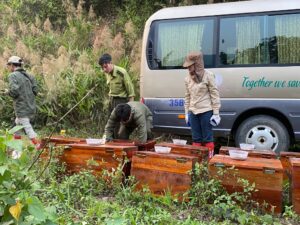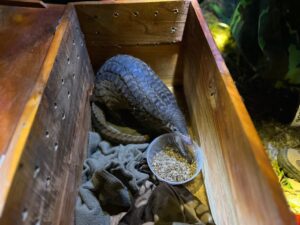 Checking and feeding pangolins before release. Photo © SVW.
After being released, pangolins typically move far away to find a safe hiding place. Before each release, SVW's research team analyzes and identifies suitable habitats for them.
At SVW, all rescued wild animals must undergo a minimum 30-day quarantine period to monitor their health, train their instincts, and control the disease. The animals are then evaluated for release based on various criteria such as being healthy and disease-free, having a natural origin, being able to defend themselves, and finding food in the wild. However, the time animals spend at the rescue center is often prolonged due to complicated paperwork procedures. The confiscated animals must be declared public property first.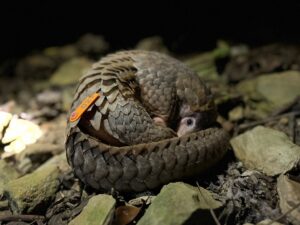 Since pangolins are nocturnal animals, the release took place at night. Photo © SVW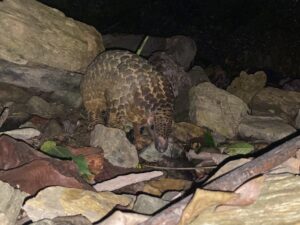 Sunda pangolins (Manis Javanica) are classified as Critically Endangered in IUCN Redlist. Illegal trading of pangolins can lead to imprisonment of up to 15 years and fines of up to 15 billion VND (Article 244 of the 2015 Penal Code) in Vietnam. However, illegal hunting and trading still occur.
Since its establishment, SVW has successfully rescued nearly 1,700 individuals pangolins, becoming the unit with the most pangolins rescue operations worldwide. SVW has also provided partial support in finance, veterinary care, and techniques to strengthen the capacity of rescue units across the country. Approximately 60% of the animals have been successfully released, contributing to the restoration of the wild population. SVW's camera trapping research has captured many photos of pangolins, especially newborns, at the release sites.