Nghe An, March 22, 2022 – Save Vietnam's Wildlife, in collaboration with Pu Mat National Park and the authority of Nghe An province transferred 07 tigers to Phong Nha – Ke Bang National Park for long-term care. These tigers arrived at the wildlife rescue center of the park in the late afternoon of the same day.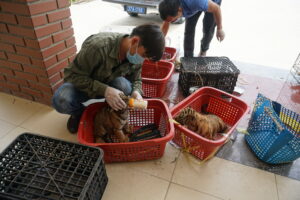 7 tiger cubs were rescued in August 2021. Photo @SVW.
7 tiger cubs over one month old were confiscated from an illegal wildlife trade and transferred to us by Nghe An Provincial Police on 1st August 2021. Currently, all tigers are healthy, the smallest tiger is 56kg, the largest one is 64kg.
Before, the animal keepers at Pu Mat rescue center trained the tigers to get used to the transport cage by feeding them inside. Dang Thanh Tuan, an animal keeper said: we have trained them for two months. The cage is 1m2 long, designed to fit the tiger's enclosure. Every day, we put meat inside the cage, trained them, so they don't feel scared. We also use the cages to check their health and weight periodically.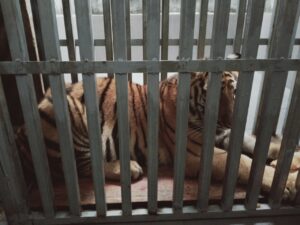 and after more than 7 months under the utmost care of the animal keepers and vets. Photo@SVW
Two tigers' number 4 and number 7 that are considered the most difficult were lured into the transport cages first. The tigers were transported by specialized truck with the palm leaves covered roof to prevent the hot sun. Two sides have vents to to ensure enough air for the tigers inside. The cages are fixed to the floor and wall of the vehicle, to avoid movement to the cage, affecting safety of tigers during transportation.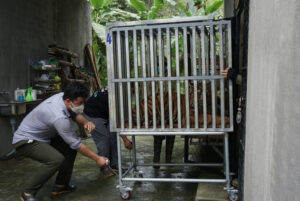 Tiger was transferred to the vehicle. Photo @SVW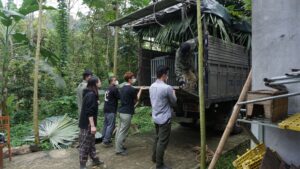 Photo @SVW.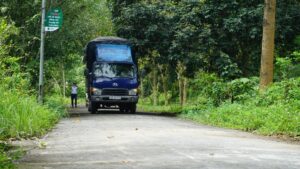 On the way to the new house. Photo @SVW
Tran Xuan Cuong, Director of Pu Mat National Park, said: in spite of the park's limited facilities, we tried our best to take care of these animals, ensure the best welfare for them. After more than 7 months, the tigers are bigger, we cannot guarantee long-term care. We consulted with Nghe An Provincial People's Committee to transfer to Phong Nha – Ke Bang National Park.
"These tigers cannot be released back into the wild", Nguyen Van Thai – SVW's Executive Director shared. Tigers in captivity almost lost their survival instincts, resulting in their near-zero chance of survival if release back into the wild. It's best to transfer them to a place with better facilities. In addition to providing them a better life, they can become educational ambassadors to raise public awareness about wildlife conservation.
The expense incurred in the day-to-day care of 7 tigers over past 7 months is more than 865 million VND (including food, human resources, and veterinary) paid by SVW.
Indochinese tiger is listed on on CITES Appendix I. Poaching for the illegal wildlife trade and habitat loss are the main threat to this species. The last time an Indochinese tiger was recorded in the forest in Vietnam was more than 20 years ago.
Additional information
About Pu Mat National Park
Pu Mat National Park was originally Pu Mat Nature Reserve, and it was upgraded to National Park according to Decision No.174/2001/QD-TTg dated November 8, 2001, issued by the Prime Minister. Pu Mat is one of the three core areas of the Western Nghe An Biosphere Reserve, with special-use forests covering a total of 94,715.4 ha and a buffer zone of 86,000 ha. Pu Mat National Park is of great biodiversity importance, and it is the home of many endangered species that have extremely high risks of extinction, and should be prioritized for conservation.
Save Vietnam's Wildlife – SVW
Save Vietnam's Wildlife is a national non-profit organization founded in 2014 with the mission to stop the extinction and champion the recovery of threatened species in Vietnam. Since its establishment, SVW has planned and implemented many long-term conservation programs and projects. Our on-site conservation activities include Wildlife rescue and rehabilitation, Habitat protection, Conservation research, Conservation breeding, Education Outreach and Advocacy. For more information, visit https://svw.vn.