Cuc Phuong National Park is in 3 provinces, 4 districts, and 14 adjacent communes. Most of the local population living in the buffer zone are the Mường ethnic group, accounting for 80% of the people here. Due to many households' economic difficulties, children born in this area have suffered more than their peers in other regions. Instead of having a life full of opportunities and being regularly taken on experiential educational trips by their parents, these children must help their families make ends meet daily.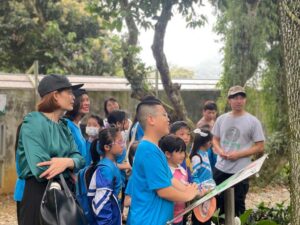 As a result, they miss out on the chance to learn about nature and wildlife and gain knowledge that could be gained from such experiences. Realizing this is a significant disadvantage for young children in buffer zones like Cuc Phuong National Park, Save Vietnam Wildlife (SVW) launched a fundraising campaign on World Pangolin Day 2023. The aim was to provide opportunities for children in the Cuc Phuong buffer zone to visit, learn and experience beneficial knowledge about nature, the environment, and wildlife at the Carnivore and Pangolin Conservation Program, fulfilling the simple dream of the children.
Even though the donation for this activity was not substantial, the efforts to spread the love for nature and the message of wildlife conservation to children have been increasingly strong, especially among the children in the buffer zone of Cuc Phuong National Park. Therefore, on March 25th, 2023, SVW fulfilled our commitment by organizing one day visit and experience at the Carnivore and Pangolin education center for over 60 young children from the Ocean Edu English Center, located in the buffer zone of the park.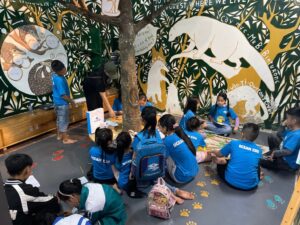 The children participated in many meaningful conservation games. Photo ©SVW.
During the visit, the children had the opportunity to visit and learn valuable knowledge about nature and wildlife, as well as carnivorous and pangolin species through beautiful visual aids that stimulated curiosity in the children. Moreover, the children participated in many meaningful conservation games such as the Puzzle game of Leopard cat and pangolin, decoding crossword puzzles, with mean full knowledge about wild animals, or the set of games "Way back home"; folding animal puzzles.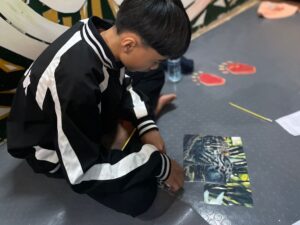 What puzzle piece is missing? Photo ©SVW.
At the end of the visit, we clearly saw the joy reflected on the faces of the children, with bright smiles and commitments to act on the "3 NOs": not eating, not using, and not assisting with hunting, transportation, and consumption in the illegal wildlife, to protecting wild animals from the brink of extinction.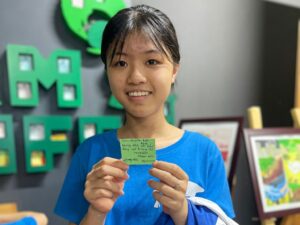 The joy of the children is an excellent source of encouragement for conservationists like us. Their messages remind us that we need to continue this work on the next journey, to provide more opportunities for children in the buffer zone of Cuc Phuong to participate in nature and wildlife experiences. This will contribute to changing their perceptions of our precious natural resources in the most positive direction.