My name is Frederik. I am 18 years old and a professional long-term volunteer at Save Vietnam's Wildlife. After graduating from high school in Germany, I am spending one year volunteering at SVW's Carnivore and Pangolin Conservation Program in Cuc Phuong National Park, Vietnam.
I have already spent six months volunteering at SVW, and I am now at the exact half of my voluntary service here. Considering this, it is the perfect opportunity to look back at this past time and see what I have learned and experienced.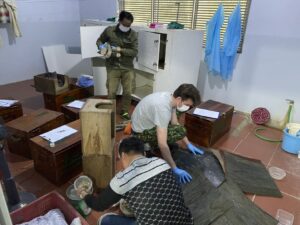 Prepare shelter for rescued animals. Photo © SVW.
My main tasks as a long-term professional volunteer are general captive work and introducing short-term volunteers and guests to the work at the rescue center. With this work, I do not only have the chance to discover the work in conservation but also the opportunity to meet conservationists from all around the world. Besides everyday work activities, I participate in SVW's rescues, releases, and many special organization events, like educational seminars.
Our daily work is split up into three different shifts. The morning shift is mandatory on every workday and primarily consists of checking on the animals and cleaning their enclosures. After finishing this part, there is always maintenance work. Both maintenance and cleaning duties of the morning shift are regularly switched up between different people to ensure optimal animal welfare and work efficiency.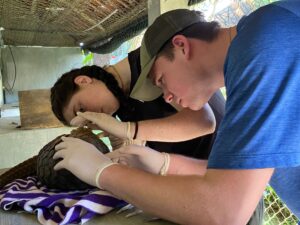 The morning shift is especially important for monitoring the health and conditions of newly rescued animals. Photo © SVW.
After the lunch break, there is either an afternoon or night shift. During the afternoon shift, volunteers and the keeper team participate in various tasks, such as maintenance, gardening, veterinary work, or creating environment enrichment for the animals. Even though there are also routine tasks, that need to be done regularly, there is always space for creative ideas. Especially for the environmental enrichment program, all volunteers can contribute with their skills. There is not one afternoon shift similar to previous shifts, so there are many work experiences to gain.
On other days, after an extended lunch break, it is possible to participate in the night shift, also called the feeding shift. During this shift, the keeper team and the volunteers prepare food for all pangolins and carnivores in our rescue center and distribute the food to all animals. In addition, we have the chance to observe many of our animals during their nighttime activities. It is finally possible to discover and watch many nocturnal animals, sometimes hidden during the day.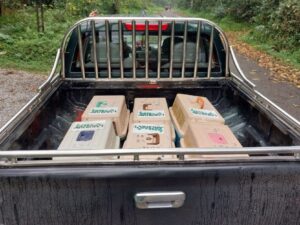 Apart from the regular work, there are always special events, like releases or rescues. Photo © SVW – Frederik.
I had the chance to participate in many events already, and these occasions quickly became some of my favorite parts of my volunteer experience. My main task is documenting the entire procedure while assisting SVW's staff in caring for the animals. These events were not only a chance to explore all kinds of regions of Vietnam but also a unique opportunity to get to know different sides of conservation work by working with the government and others interested in conserving endangered species.
It is safe to say that this is a unique chance to witness and experience all steps of SVW's conservation work here in Vietnam, from successful animal rescues, proper rehabilitation work, meaningful releases, and significant research on endangered species in Vietnam.