After one month launching, the art creative contest "Why-life needs wildlife?" has found the best 7 entries and 1 entry got the most votes.
The art creative contest "Why-life needs wildlife?" was organised from June 5, 2022 to July 5, 2022 with the aim of conveying the theme "Protecting wildlife is also protecting our own life" to everyone through an art creative contest about wild animals.
43 contestants from Vietnam and abroad submitted 47 pieces of art. Each entry adds its own colour and creativity while displaying the contest's main message.
Our panel of judges, which included Nguyen Van Thai, SVW's Executive Director; Do Viet Anh, CEO BOO; Director Cao Trung Hieu, and Artist Dinh Kieu Duong, chose seven winning entries from among 30 eligible entries based on the entry's expression (layout, colour, technique) and how well it conveyed the contest's theme on a scale of 100 points. In addition, the eligible entry that got the most eligible votes on Save Vietnam's Wildlife Fanpage during the voting week will be deemed the winner of the Voting Prize.
And the winners of the art creative contest "Why-life needs wildlife?":
The entry "Is a cup of civet coffee worth a life?" by Lam Ngoc Huyen wins the Special Prize; the First prize goes to the painting "Shared home" by Nguyen Thu Hien, two Second prizes are awarded to "The red hand" by Nguyen Ngoc Ha and "For a beautiful life" by Phan Dinh Sinh; three Third prizes belong to "Otter Island" by Huynh Tan Tai, "Handshake" by Nguyen Thanh Huy and "Where you belong" by Dang Thi Hoai Nhi. And the Voting Prize was given to "Give animals back their peaceful life – Don't let wild animals remain in books" by Trinh Ngoc Hien. Her photo entry received 609 votes (including likes and shares), the most of any entrant.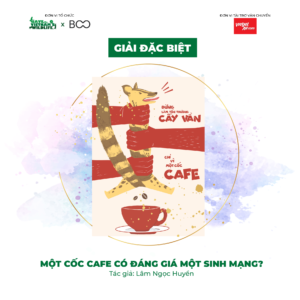 The awarded entries will be exhibited at SVW's Carnivore and Pangolin Conservation Education Centre in Cuc Phuong National Park for the purpose of educating and raising visitors' awareness of threatened species and wildlife conservation.
Save Vietnam's Wildlife wants to send a big thank you to everyone who participated in our contest and helped make it a success!
Click here to see all of the winning entries.