On May 30th, 2022, Nghe An Forest Protection Department has collaborated with Save Vietnam's Wildlife to organize a seminar on "Strengthening interdisciplinary cooperation to combat hunting, trading, consuming and use of wild animal products in Nghe An province". The aim of the seminar was to discuss opportunities for enhanced collaboration between agencies and departments in Nghe An province. An increase in collaborative arrangements between the parties, will in turn, provide an increase in capability to improve and implement wildlife conservation methods. This will then ensure all participants can more effectively stop and strictly handle acts of hunting, trading, consuming and using wild animals in the province.
There were more than 50 delegates who participated in the seminar as representatives of the authorities of Nghe An Provincial Forest Protection Department, representatives of agencies: Environmental Police Department – Provincial Public Security; Directorate of Market Surveillance; Customs Department; Provincial Border Guard Command; Pu Mat National Park; Pu Huong Nature Reserve; Pu Hoat Nature Reserve; representatives of all rangers and the Mobile Rangers & Forest Fire Protection Department.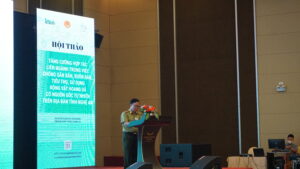 Nguyen Anh Tuan – Vice Director of Provincial Forest Protection Department. Photo @SVW.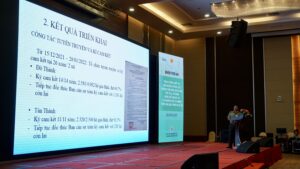 The representative of Yen Thanh District Forest Protection Department presented the situation of illegal wildlife captive breeding in the district and management solutions in the coming time. Photo @SVW.
This was a great opportunity for Nghe An's management and law enforcement agencies to share experiences, difficulties, and obstacles faced in interdisciplinary cooperation in the fight against illegal poaching of wildlife for trade and consumption in the province. The program has also provided participants with information about the status quo, wildlife threats, and current efforts of law enforcement in wildlife protection.
Nguyen Anh Tuan – Vice Director of Provincial Forest Protection Department said: "Nghe An has the country's largest natural forest area. Forests are particularly essential in the province's economic and social development strategy, security and defense, and environmental protection. The Government has completely promulgated a system of papers and legal laws on biodiversity protection and nature conservation; however, the coordination work between local agencies and units to combat illegal wildlife trade and consumption is sometimes restricted. According to the People's Committee's of Nghe An Province, people's behaviours and the practice of using wild animal products, has not been totally eliminated, there are still violations of wildlife management legislation in some segments of the population. Through this seminar, we would like to gather practical thoughts and ideas in multidisciplinary cooperation between wildlife conservation authorities and agencies".
At the seminar, Tran Xuan Cuong – Director of Pu Mat National Park presented a report on the results of cross-sectoral coordination between local units and NGOs in wildlife protection in the park.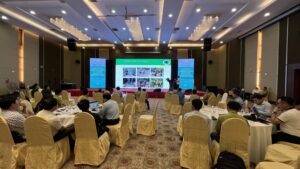 Tran Xuan Cuong – Director of Pu Mat National Park. Photo @SVW.
According to the report, Pu Mat National Park, in collaboration with SVW has carried out many activities in wildlife rescue and rehabilitation, and site protection since 2018. 427 animals were rescued and confiscated from illegal trades; the Anti-poaching Unit of 16 members was established in 2018 to strengthen patrolling with forest rangers. SVW also conducts awareness-raising and demand reduction programs, reaching up to 100,000 people in the buffer zone of the park. Social research and fieldwork activities have also been carried out continuously. As a result, wildlife habitat protection and law enforcement in Pu Mat National Park have significantly improved; illegal hunting activities have decreased by 80%, and statistics from camera traps have also recorded recoveries of wildlife populations, including many rare species.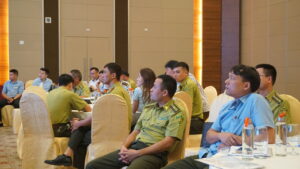 Speaking at the seminar, Nguyen Van Thai, SVW's founder and executive director said that: "In the future, we look forward to working not just with Pu Mat National Park, but also with all of Nghe An province functional units to strengthen wildlife conservation. I believe that if we work and act together, the country's biodiversity and valuable natural resources in general, and Nghe An province in particular, will be adequately conserved. Let's not eat wild animals and raise your voice in wildlife protection."
At the end of the seminar, the delegates, through dynamic discussions, agreed on 13 main actions to implement in the future, including: Reinforcing making arrests on illegal wildlife trades; strengthening the execution of wildlife-related violations after arrests and promoting propaganda, education, awareness-raising, and behavior change for people to stop illegal wildlife consumption.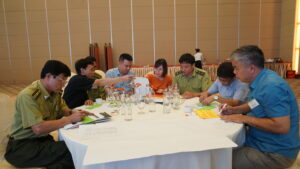 The representatives discussed in groups. Photo @SVW.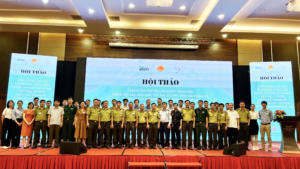 and took picture at the end of the seminar. Photo @SVW.