On October 13, 2021, the online policy dialogue "Assessing the effectiveness of policies on wildlife conservation, lessons learned and recommendations in the period of 2021-2030, vision to 2050" was successfully organized by Save Vietnam's Wildlife in collaboration with Centre for International Forestry Research (CIFOR) with the enthusiastic participation of more than 100 representatives on Zoom, and hundreds of people watching via livestream on the official Fanpage of Save Vietnam Wildlife (SVW).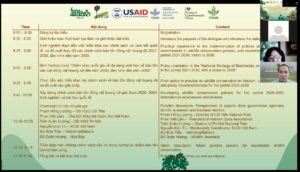 A screen shot of the content of the policy dialogue.
During the dialogue, experts consulted and contributed opinions on the effectiveness, shortcomings, lessons learned at home and abroad, proposed appropriate changes on policies of wildlife conservation in the future. Especially when COVID-19 pandemic has been posing significantly adverse impacts on socioeconomic activities in the country, evaluating the current situation and proposing appropriate policies will not only support wildlife conservation but also help achieve the objectives set out in the forestry development strategies, biodiversity conservation strategy for the period 2021-2030, vision to 2050.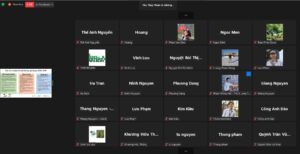 At the end of the dialogue, some extremely important recommendations for the orientation of wildlife conservation policies in the future have been made, including:
– Wildlife conservation policy towards clear criteria for commercial wildlife farming and issue a list of wild species allowed for commercial farming.
– Criteria for ensuring the decision to farm each species requires a full conservation impact assessment.
– Handling of violations are not only the responsibility of forest rangers but also of the local authorities (including commune police).
– CITES implementation is not only the task of CITES management authority of Vietnam, but requires multi-sectorial departments.
– Develop a separate law on wildlife conservation in order to unify the institution for managing biodiversity and wildlife from species to ecosystem level; unify sanctions to handle violations of wildlife protection from administrative to criminal, avoiding there's one or two related articles in the Penal Code, administrative sanctions are in many different decrees; mobilize resources, avoid overlapping, reduce ineffective law enforcement.
– Regulations on establishment of rescue centers and standards to ensure transparency and wildlife welfare. Limiting the keeping of rescue animals for sightseeing purposes, it is necessary to balance revenue, conservation, and welfare of animals.
– Wildlife management officers at state agencies at all levels should be more active in investigation and handling; journalists can assist in the investigation, but the main force is still state agencies.
– Compensation for wildlife human resources should be improved. Conservation areas still face many difficulties in accessing the budget to ensure rangers' duties and expand the scale of wildlife rescue and conservation.
– Staff cutback should base on the size of the conservation area, not on the mechanical mechanism that does not balance the protection area for each conservation area.
– Procedures related to public property management policy with wildlife should be shortened and more comprehensive.
– Ecotourism is considered an effective way to contribute to sustainable development, conservation of animals and livelihoods for local communities living around the forest.
– Develop new financial mechanisms to promote economic development associated with forest and wildlife protection (fee for environmental services, carbon emission trading, non-deforestation business, stocks, etc.)
– Tax reduction policy for businesses that make contributions and donations to social organizations and environmental organizations.
Resources:
Developing wildlife conservation policies for the period 2020 – 2050: International experiences and lessons, Dr. Pham Thu Thuy – CIFOR
Experience and policy orientation for wildlife conservation in Vietnam, period 2020 – 2030, vision to 2050, Dr. Vuong Tien Manh – Vice Director of CITES Vietnam
From policy to practice on wildlife conservation in Vietnam: Lessons learned and policy recommendations for the period 2020-2030 (update soon), Nguyen Van Thai – Executive Director of SVW