On November 23th, 2021, Save Vietnam's Wildlife (SVW) in collaboration with Cuc Phuong National Park and the Bac Giang Forest Protection Department released 30 Masked palm civets back to the wild.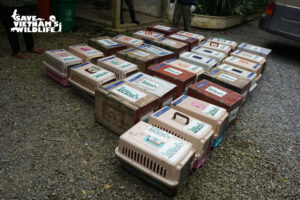 They are among 100 Masked palm civets that were confiscated from illegal wildlife trade in mid-April, 2021. Collaborating with Cuc Phuong National Park, we rescued and transferred them to our rescue center in Cuc Phuong. Unfortunately, 4 Masked palm civets died from asphyxiation before our arrival. Two more also died after returning to the rescue center due to exhaustion as well as chronic diseases. After 7 months of rehabilitation under our care, 70 Masked palm civets are eligible for release.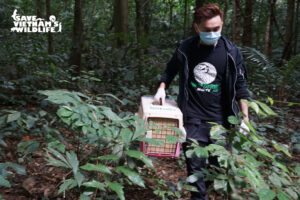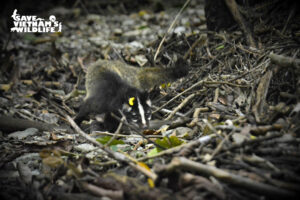 The release of 70 Masked palm civets will be divided into several rounds, this is the first round with the largest number. The remaining animals will make it back safely into the wild in the upcoming times.
Masked palm civets are listed in appendix III of CITES. However, their habitat is being annihilated at an alarming rate by logging companies and human encroachment (for fur and food), making it possible that they will become increasingly vulnerable to becoming endangered.
More information about the confiscation of 100 Masked palm civets
On April 17th, 2021, 100 Masked palm civets with a total weight of 315.8kg were confiscated by Bac Giang Forest Protection Department and the Public Environmental Crime Prevention Department, Bac Giang Police from an illegal wildlife trade. The civets were from a wildlife farming in Ha Giang province and were purchased by a local with a total value of more than half a billion dong.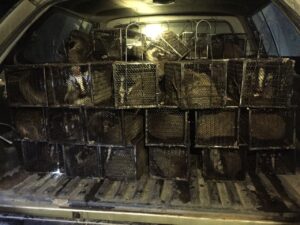 On October 1, 2021, the Chairman of Bac Giang Provincial People's Committee issued a decision to administratively sanction individuals who illegally transport and trade 100 Masked palm civets. The total fine amounted to 570 million VND.