In Dong Nai, there is a population of over 20 Asian elephants primarily residing between Cat Tien National Park and Dong Nai Natural and Cultural Conservation Area. Buffer zone communities and the elephant populations experience economic losses and conflicts due to elephant crop raids and property damage due to loss of habitat leading to increasingly shared spaces between elephants and humans.
Vietnam's elephant populations are nearing a significant extinction threshold, and the Dong Nai population represents one of the most important in the country. To address these challenges, it is crucial to implement effective measures to mitigate Human Elephant-Conflict, and identify and promote coexistence strategies between communities and elephants.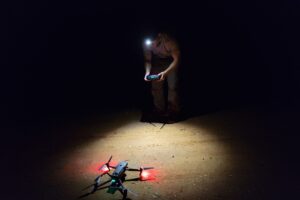 Photo ©SVW.
To understand the conflict between elephants and humans for the benefit of both parties, researchers from SVW in Dong Nai, thanks to the support from the Mohammed Bin Zayed Fund for Conservation of Animals, seek to use drones to monitor wildlife at a distance remotely. With the inclusion of thermal sensors, the detection rates of mammals vastly increase against the backdrop of cold vegetation.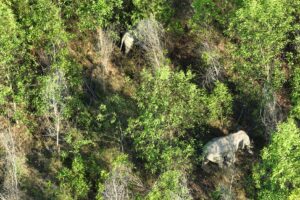 Aerial photographs of elephant herds. Photo ©SVW.
We aim to track elephant movements at night and in the early morning hours, study elephant groups, determine entry points to agricultural areas, identify locations for installing Artificial Intelligence (AI) cameras to automatically send alerts to stakeholders, and create partnerships between sustainable tourism companies and farmers.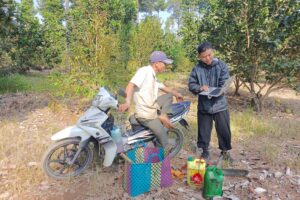 SVW field researchers conduct surveys with local communities to gather information about the elephant herds. Photo ©SVW.
In a later step, safe viewing spots will be established where smart cameras will send alerts to workers in the tourism sector, so they can bring tourists to the viewing points to watch elephants. This sustainable tourism will create a sustainable income source that benefits farmers to meet what the hungry elephants enjoy from their crops.
The next phase of this project will be to set AI cameras in these emergency points where elephants come to forage in agricultural areas at night, whereby local people will receive alerts in real-time when elephants are detected. With the assistance of new conservation technologies, human-elephant conflict mitigation and elephant research and monitoring are safer, more effective, and beneficial to both humans and wildlife.