Save Vietnam's Wildlife recently participated in the "Education Nurturing" program as a connecting unit between ABG Leadership Academy and Pu Mat schools. The program, organized by ABG Edu 2, to support education in remote areas and promote the use of technology in learning.
The program was held on March 17th and 18th, 2023, and focused on two schools located deep within the village of Co Phat, Ban Bung in Pu Mat National Park. These schools lack proper learning equipment and are surrounded by pristine nature.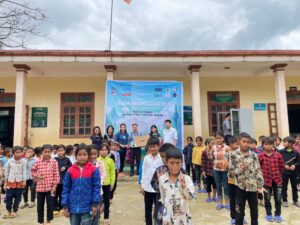 Donating learning equipment: 03 computers, 100 books, 01 wifi router, 01 wifi registered sim card for 6 months, 01 bookshelf to Ban Bung Primary School 2, Con Cuong, Nghe An. Photo ©SVW – Ngo Thuong
The "Education Nurturing" program successfully mobilized funds from businesses and individuals and donated 09 laptops, 02 wifi routers, 02 wifi registered SIM cards for 6 months, 02 bookshelves, and over 300 books to the schools in the area. These are extremely useful devices for schools to meet the Ministry of Education and Training's 2018 General Education Program, which includes teaching English and computer science from grade 3.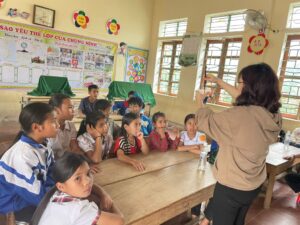 "Butterfly pea turns purple when adding lemon, turns pink when adding vinegar, and turns emerald green when mixed with baking soda powder". – Wow, that's amazing! Photo ©SVW – Ngo Thuong
The program provided training for nearly 40 teachers on how to use learning materials to design impressive presentations and connect with online courses for elementary school students. The team also had a 2-hour boat trip upstream on the Giang River to the remote Co Phat and Ban Bung schools and organized activities for students, including STEM activities and games such as "Magic Color Jar" and "Paper Shooter." At the end of the session, each student received a set of school supplies, including pens, rulers, and book bags.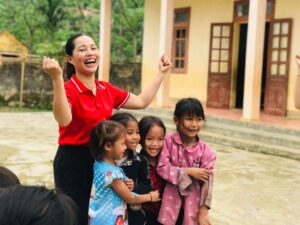 The children were thrilled with the games like "Stick together, Unstick", and "Bringing water to the village". Photo ©Nguyen Hanh
Save Vietnam's Wildlife hopes that educational programs like "Education Nurturing" will continue to expand so that teachers and students in remote areas can access information, nurture the spirit of learning, and narrow the gap in education.