Saturday, Trieu Nam Tran (26 years old) begin their working day as usual. His task for the day was to attend to a pangolin whose tail had been severed due to an infected wound the previous month.
The life of a wildlife veterinarian is one filled with sacrifices. There were times when the center is overflowing with rescued wild animals, and the shortage of human resources leaves the veterinarians with little time to rest. During that time, the vet team is often referred to as "rich in days off".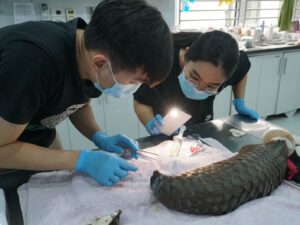 Caring for pangolins and other carnivores is taken very seriously by the wildlife veterinarians at SVW. Photo ©SVW.
Every milliliter of milk is carefully measured, and every missed meal is a cause for concern. Although being a veterinarian may seem like a desirable career choice, wildlife veterinarians are not so easily found. It takes a unique combination of passion, love, and heart to excel in this field.
Trieu Nam Tran, a young and dedicated veterinarian from Ha Tinh province in central Vietnam, has worked at SVW for nearly three years. He started as an assistant, but after more than one year of hard work and determination, he officially became a veterinarian at the center. Trieu has performed many tails and leg amputations.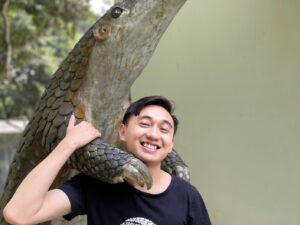 Trieu has performed many tails and leg amputations. Photo ©SVW.
Despite the long hours and demanding work, Trieu always tries to get the animals in his care. He often stays late into the night to check on pangolins after surgery. He has even slept in the vet room occasionally. As a wildlife veterinarian, Trieu is equipped to understand the health status of pangolins and provide the specialized health treatment they need. His dedication to his work and the animals he cares for is a testament to the compassion and care necessary to protect and conserve these magnificent creatures.
Anh Ngoc Truong, a recent graduate of Veterinary Medicine of Agriculture and Forestry University of Ho Chi Minh City from Ho Chi Minh City, has only been a part of SVW for two months but has already made a significant impact with her strong personality. During the Lunar New Year holiday, Anh took the duty to care for the recently rescued pangolins that arrived at SVW in December. Many were seriously injured, and Anh felt it essential to stay and provide care, even if missing the holiday festivities. "My house is far away, so I accepted the duty to care for them during the holiday," said Anh.
Anh is putting medicine in animal feed. Photo ©SVW.
Despite her youth, her unwavering commitment to the welfare of wildlife is truly inspiring. Anh is a shining example of the passion and compassion necessary to protect and conserve these magnificent creatures.
Save the lives of 92% of rescued pangolins.
In 2022, our veterinarian team saved 51 out of 56 pangolin individuals we rescued. SVW is recognized as a leading non-profit organization, rescuing nearly 1700 pangolins, the most in Vietnam and possibly the world. The many teams' joint effort is to save an individual pangolin from illegal trade and rehabilitate, release, and protect them in the wild. From the rescue team is always ready to travel great distances, day or night, to reach needy animals to animal keepers taking care of them, from the research team monitoring post-released pangolins to learn more about their habitat to the anti-poacher team patrol every day to keep the forest safe. And wildlife veterinarians give these rescued pangolins a second chance at life at the very first stage.
In the early days, there was a shortage of human resources and a need for more information on the care and treatment of pangolins. The lack of medical expertise resulted in many pangolins dying upon arrival at the rescue center. Thai Van Nguyen – SVW founder frequently mistaken for a "veterinarian" due to his presence in the medical room. In recent years, with the addition of a team of young and passionate veterinarians, Thai no longer has to assume the role of a vet. More importantly, the survival rate of rescued pangolins has increased to 92%. It is a proud achievement for the entire SVW team, particularly the veterinarians.
The work of wildlife veterinarians is crucial to the survival and conservation of endangered species such as pangolins. The dedication and passion shown by Trieu Nam Tran and Anh Ngoc Truong, two young and committed veterinarians at Save Vietnam's Wildlife rescue center, are truly inspiring. Their unwavering commitment to the welfare of the animals they care for is a testament to the compassion and care necessary to protect and conserve these magnificent creatures.
On World Pangolin Day, the Pangolin wishes them a happy and peaceful life.