Results, difficulties, challenges, and proposed solutions to strengthen cooperation and solve common problems in wildlife rescue were discussed in the workshop "Strengthening cooperation and improving efficiency in wildlife rescue in Vietnam"
The workshop took place on November 30 and December 1 at Cuc Phuong National Park, led by SVW with 40 participants from the Forest Protection Department, Department of special-use forest management, Department of Nature Conservation and Biodiversity, leaders from the wildlife rescue centers under the National Parks and non-profit organizations across the country.
Photo ©SVW.
Currently, 20 units (under the state and non-profit) in the country are carrying out rescue and breeding programs for wildlife conservation. The total number of rescued wild animals is 47,000, of which 15 out of 20 centers are for multi-species. However, the units' cooperation, sharing of resources, and capacity building have yet to fully develop to their full potential and strengths.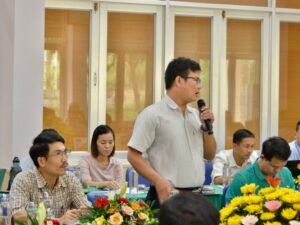 Participants discussed and shared knowledge about rescue procedures, rehabilitation techniques, quarantine, and the release of confiscated wild animals. Photo ©SVW.
The representatives also pointed out shortcomings in handling administrative systems for wildlife rescue, such as the assessment and processing time of wild animals seized from illegal trades. Furthermore, the prolonged illicit sale and transportation and the complicated procedures for establishing public ownership rights have created many difficulties and challenges, putting pressure on wildlife rescue units' resources. In addition, sharing resources in rescue work, building a sustainable financial mechanism, and seeking funding to improve the wildlife rescue capacity are also topics that raised concerns about finding suitable solutions.
Nguyen Manh Hiep – a Department of Protection and Special-Use Forest Management representative- shared: Although not directly involved in wildlife rescue, the General Department of Forestry is planning to develop technical norms in wildlife rescue and rehabilitation. Therefore, we would like to listen to rescue centers' thoughts to give timely advice, amend appropriate legal policies, and grasp the reality of wildlife rescue.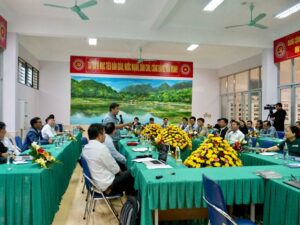 Wildlife rescue is a risky duty. Photo ©SVW.
At the workshop, most participants said that wildlife rescue is a risky duty. As rescue centers are scattered throughout the country, having a network is extremely important for the units to share information and support each other while rescuing and transferring the animals to the appropriate receiving team.
At the end of the workshop, 22 out of 24 units agreed to establish the Vietnam Wildlife Rescue Network (WRN) with the management board, including rescue units representing three regions and non-profit organizations, to enhance cooperation and efficiency in wildlife rescue and conservation in Vietnam.
According to Nguyen Van Thai, SVW's Executive Director: In the coming time, the Management Board will discuss and develop regulations and operation methods for the Wildlife Rescue Network and send them to members. When the Vietnam Wildlife Rescue Network comes into operation, it can create many positive changes and bring lasting and sustainable effects to wildlife rescue activities in Vietnam.