On September 28-29, 2022, Save Vietnam's Wildlife organized One Health training course with 50 participants of 05 National Parks: Cuc Phuong, Pu Mat, Cat Tien , U Minh Thuong, U Minh Ha, Asian Turtle Program (ATP), and the Endangered Primate Rescue Center (EPRC).
The concept of One Health has appeared for a long time, but during the Covid pandemic, this concept has received more and more attention from the community. One Health represents the interaction between humans, wildlife, and the environment. There are many health-hazards and risks associated with wildlife, but national parks in Vietnam have not given much attention to it. This training course aims to help them gain more knowledge as well as develop a more comprehensive plan to implement the One Health approach.
In the opening speech, Nguyen Van Thai – Director of Save Vietnam's Wildlife (SVW) shared: 'One Health' is an integrated, unified approach to balance and optimize health of humans, wildlife, and the environment. It is especially important to prevent, anticipate, detect, and respond to global health threats such as the COVID-19 pandemic. This approach mobilizes many disciplines, sectors, and communities at different levels of society to work together, developing new and better ideas to solve the root causes and find out long term, sustainable solutions.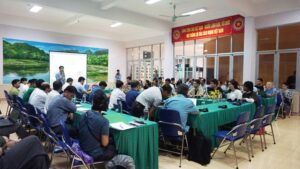 Photo © SVW.
At the training session, Dr. Cadhla – Ecohealth Alliance Scientist, Senior Researcher and Program Coordinator pointed out common misunderstandings about One Health approaches, evaluating strategies , case studies and overviews of One Health initiatives and policies in Vietnam to help demonstrate the approach can be implemented in practice.
Nguyen Xuan Tu – Biodiversity Coordinator of the International Union for Conservation of Nature (IUCN) in Vietnam also presented an overview of the IUCN Green List and demonstrated incorporating the One Health approach within its criteria.'
Within the program, the participants were explained the risks of working with wildlife, and trained on how to prevent, detect, respond to epidemics and recover from pandemics in the protected areas; practice First Aid Procedures for wounds cause by animals, Animal Handling Procedures, and important skills to ensure safe contact when working with wild animals.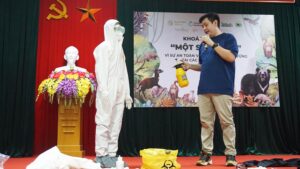 Instructor Jimmy Lee guides the disinfection process before and after doffing personal protective equipment (PPE). Photo © SVW.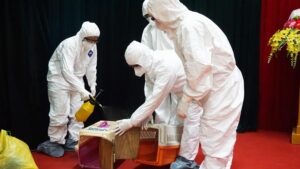 Show the trainees the process of disinfecting wildlife transfer boxes after use. Photo © SVW.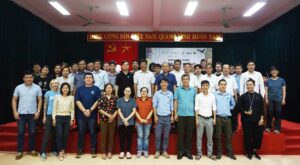 Instructors and participants from 5 national parks take photos after finishing two day training course. Photo © SVW.
The training course ended successfully with valuable discussions and knowledge related to management capacity in the fields of public health, veterinary practices, and the environment. The One Health approach, also with regard to food and water safety, and nutrition, helps control zoonotic diseases. Community involvement plays an important part in promoting risk-reducing habits and attitudes, and to support early detection and prevention of the threat of diseases.