On 22/09/2022, SVW in collaboration with Cuc Phuong National Park and the Drug-Related Crime Investigating Police Team, the Police of Ngoc Lac district, Thanh Hoa rescued two confiscated Owston's palm civet from two traders in the evening of September 21st, 2022.
Two Owston's palm civets were illegally bought from local people who hunted them in the forest. These animals suffered serious leg injuries from trapping. A severely debilitated civet cannot make it after one day arrives at our rescue center.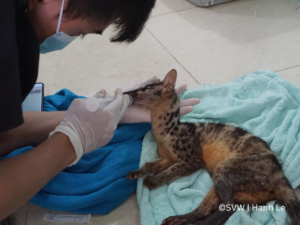 Nguyen Van Thai, SVW's Executive Director said: SVW is currently cooperating with Cuc Phuong National Park in expanding Owston's palm civet breeding program to recover their populations in the wild in the future. It is expected that the new conservation breeding program will be built on an area of nearly 1ha in Cuc Phuong National Park with 50 enclosures to keep up to 50 Owston's palm civets, estimated to release six to ten individuals back to the wild per year.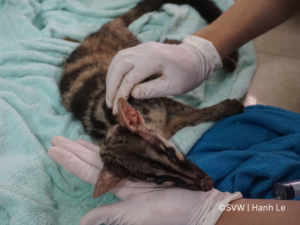 Owston's palm civet is native to Vietnam, eastern Laos, and part of southern China, in which Vietnam is the mainly distributed country. Owston's palm civet is listed as Endangered by the IUCN Red List and may be considered as Critically Endangered (Timmins et al., 2016). In Decree 84/2021/ND-CP amending and supplementing Decree 06/2019/ND-CP on the management of endangered, precious, and rare forest plants and animals and the implementation of the Convention on International Trade in Endangered Species of Wild Fauna and Flora, the Owston's palm civet is listed in IB group.
The Owston's palm civet population in the wild declined by more than 50% over the past 15 years and is on a similar downward trend over the next 15 years (Timmins et al., 2016). Although this species is still recorded through camera traps at some locations, the frequency and range of encounters of the species is less and less due to illegal hunting activities, especially the use of snare traps for ground foraging species such as Owston's palm civet.