SVW is honored to be one of two new social organizations, "pure Vietnamese," accompanying at UpRace 2022 – an online running event to raise funds for the community. UpRace season 5 will officially take place from 28 /10/2022 to 20/11/2022. It is the first time that SVW has accompanied this meaningful community event. Every kilometer of your run will be contributed to SVW saving pangolins and other wildlife from illegal poaching, trafficking, and consumption, caring for and releasing wildlife back to their natural home.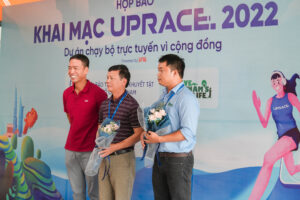 Le Hong Minh – Chairman, CEO at VNG – UpRace's Organizer and representatives of two social organizations. Photo ©UpRace.
Launched in 2018, UpRace reached the five-year milestone while still maintaining its mission as a platform to connect runners with many good things – Ms. Tran Xuan Ngoc Thao, representative of the UpRace project, shared. Accordingly, UpRace has contributed nearly 20 billion VND to 5 different social organizations in four years. Along with the fundraising goal, the UpRace runner community has grown to 240,000 people, becoming a running project with the most influential annual online ministry in Vietnam.
This year, UpRace aims to conquer the milestone of SIX million km, equivalent to a fundraising goal of SIX billion VND that supports two social organizations: SVW and the Vietnam Association for the Protection of Persons with Disabilities and Orphans. "SVW and UpRace share similar goals and values in terms of vision through the community. Through this journey, SVW hopes more people know nature and appreciate wildlife more, as well as to act "Three noes" – Do not eat wildlife, do not use wildlife, and do not abet violations about wildlife. Protecting nature needs the cooperation of all of us. Forests are ours; wildlife is ours; protecting them is protecting our own lives. Through UpRace, we believe we will spread this meaningful message to the community", Nguyen Van Thai – SVW's Executive Director, said.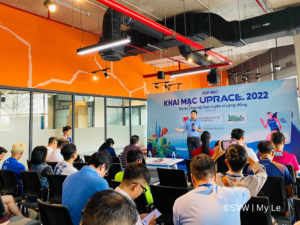 Nguyen Van Thai – SVW Executive Director speak at the press conference. Photo ©SVW_My Le.
Sponsors accompanying UpRace 2022 are VNG, Home Credit, Minh Long, Empire City, NutiFood, Biti's, Kalapa, Vantage, HTE, Genetica, Fossil, Vietinbank, YouNet Media, and TikTok. It is also the first year that UpRace has the professional footballer Doan Van Hau, Miss Sports Vietnam 2022 Doan Thu Thuy, and Quang Chan Ultra Runner as Ambassadors. Their presence will significantly encourage the running community and those interested in fundraising activities for social organizations.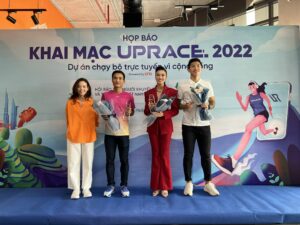 UpRace 2022 Ambassadors. Photo ©SVW_Nguyen Van Thai.
SVW is a non-profit organization that relies on the contributions of organizations and communities to implement conservation activities. Therefore, receiving funds from the running community and sponsors will be of great significance in the journey of saving Vietnam's wildlife. SVW committed to using the funds raised in this event to rescue illegally trafficked directly and hunted wildlife and protect their natural habitat.
During the event, SVW will launch the campaign: Run4Wildlife to encourage everyone, especially young people, environmental agencies, and organizations, with two main objectives: Enhancing awareness of Vietnamese people about the need to protect wildlife and calling for the cooperation of all people. With just 'small running,' you can contribute to Vietnam's wildlife protection efforts and save the world where we live.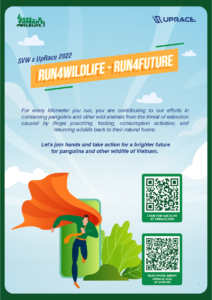 About UpRace
Launched in 2018, UpRace is the largest community running event in Vietnam, organized annually by VNG. The event took place within 3 weeks, attracting hundreds of thousands of runners from businesses, schools, and sports clubs. For every valid kilometer recorded on the UpRace app, VNG and sponsors will donate at least VND 1,000 to the social organization that the runner select to fund their run.