[Ninh Binh, November 30th, 2021] In collaboration with Cuc Phuong National Park, SVW finished the second release of 32 Masked palm civets, bringing the total number to 62 out of 70 civet that are eligible for returning to the nature after seven-month-rehabilitation at our center in Cuc Phuong. The remaining animals will be released in December 2021.
All the released animals are among 100 Masked palm civets that were confiscated from an illegal trade by Bac Giang Police in mid-April 2021. According to information from the government officials, these animals originated in civet farms and were transferred from the northern border area for consuming.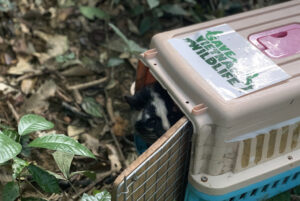 Tran Van Truong, SVW's head keeper said: The success of this huge operation was the result of a joint effort between every team of the organization at the center. We faced many difficulties and challenges.
It is the biggest Masked palm civet rescue since our establishment. The first and foremost obstacle is the facility. Normally, each rescued animal is kept in one enclosure. However, this time we must keep two or three civets in one enclosure due to lack of facility and we also take care of pangolins and other carnivores. Our keepers always kept eyes on them to evaluate their nature, behavior for appropriate treatment and rehabilitation.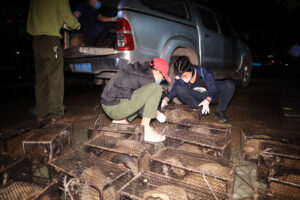 Secondly, these animals were in captive breeding for commercial gain. They lost wild instincts, especially the ability of searching for natural food in the wild. Our keepers worked hard to look for thousands of kilograms of fruits, insects… for them. Many Masked palm civets were trained in the semi-wild area with tracking equipment to monitor their ability of foraging and climbing. Then our researchers assess the adaption and survival skill of these captive civets to the natural environment. Luckily, after more than 7 months, 70 Masked palm civets are in good health and restore their wild instincts. They are eligible for go back into nature.
Thirdly, wild animals which are raised in illegal farming and trading often carry many diseases. The world had faced with SARS epidemic began in China in 2002. Many studies and researches showed that the SARS coronavirus originated in Chinese bats (Rhinolophus sinicus), then spreading to civets and human. These wild animals were sold in local market as food and the virus transmitted to sellers.
Therefore, after rescuing the civets, the vets team tried to give them the best medical treatment as well as sent samples to the laboratory for analysis. When the civets are healthy and totally free of virus, they faced the risk of generic degeneration because of inbreeding. This often happens to animals who are kept in captivity and bred for commercial sale. It is necessary to release civets at least 500 meters apart from each other, so that they have less chance to meet and mate in the nature. The fact that they breed with other wild individuals will reduce the risk of natural genetic degradation.
The final obstacle is the financial pressure. According to the quarantine rules, the rescued animals need to stay in the quarantine area 30 days before releasing them back into the nature. However, the confiscation, handling of exhibits and completion of administrative procedures took place for more than 7 months, causing pressure on the financial and human resources. These Masked palm civets have been stayed at our rescue center for 228 days. 900 million VND were spent to buy food, veterinary medicine, and workers to take care of them. Speeding up the administrative procedures could have been leading to the earlier animals releasing, reducing financial pressure, lastly, ensuring that their wild behaviors are not lost due to long time in captivity.
Thai Van Nguyen, Executive Director of SVW and 2021 Goldman Environmental Prize Winner (also known as the Green Nobel) said: Captive animals has a big influence on the wildlife conservation activity. The first is the pressure on hunting wildlife animal, bring them out of their habitat then sell to animal farms. While breeding is usually only popular for a while, mainly sold among farm owners, it is not welcomed by the community. Consumers often complain that animals in captivity do not eat natural food, so the taste is not good as the wild ones. As the result, the selling price decrease. There are a lot of lessons learned from many crocodiles, snakes, porcupines farming.
Thai also said that the efforts of rescuing and releasing 100 Masked palm civets should be well recognized because it gives these animals a second chance to live while increasing the population in the wild. However, it is not an effective conservation method because it's too expensive and pose a potential risk to wild populations.
SVW has worked hard to analyze the risks of rescuing animals from the farm in order to get a more effective conservation method. According to Thai, not eating and not using wildlife products, even from livestock farms, is the most effective way, not only to the conservation of wild animals, but also avoid the risk of disease to human.
The COVID-19, the ongoing global pandemic has caused more than 5 million deaths worldwide now. Although there is no confirmed scientific origin, many genetic studies show there is high possibility that the virus originated in wild animals that were hunted by people and taken out of its habitat, leading to multiple variants of the virus, and become dominant in many countries. It is considered as one of the deadliest in history.
Now is the time to stop illegal wildlife trade and consume before the next animal-origin pandemic is thrust into our life.