Protect the wildlife we love
primary students aged 8, 9, and 10
For the full report of the program, please download here.
Arousing and fostering children's love for nature and wildlife (particularly carnivores and Pangolins) through one-day outdoor activities and experience with nature.
Providing children with the necessary knowledge and skills to increase their understanding, and to take informed actions to protect nature and wildlife.
Inspiring children to become ambassadors and advocates for wildlife protection in their families, schools and communities.
Contributing to the long term goal that makes conservation education become the annual extracurricular at schools.
EDUCATIONAL ACTIVITY DESIGNING
The program is designed as a one-day nature expedition, balancing both static and dynamic activities to make it appropriate to the physical, psychological and cognitive levels of elementary school students. The activities include:
Outdoor activities to explore and discover nature at Cuc Phuong National Park;
Indoor educational activities at the Carnivore and Pangolin Conservation Education Center;
Observation of wildlife that cannot be released back to the wild in long-term enclosures and their stories;
Observation of the keepers feeding the Binturongs.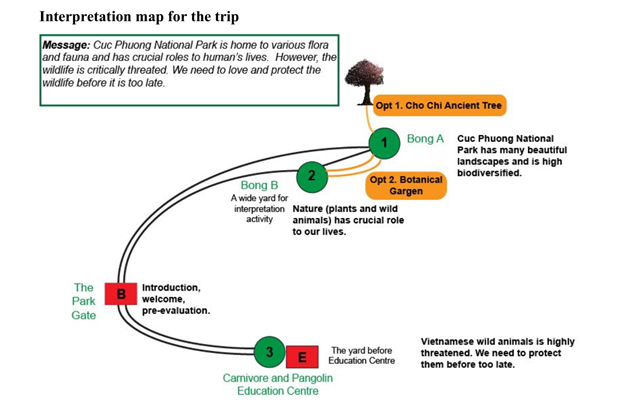 RESULTS OF STUDENTS' EVALUATION
The questionnaires before and after the trip for students and the evaluation form for teachers were built and analyzed to evaluate the program.
Below are some key findings:
Results of students' evaluation

Chart 5: Evaluation of teachers' satisfaction in the program (Unit: %)
Chart 5 revealed that the program received support and satisfaction from the teacher with a rate above 90% in all categories.