On an unforgettable patrol trip to the Vietnam-Laos border with the courageous border guards, our team consisted of ten: six soldiers, a forest ranger from Pu Mat National Park, myself as the anti-poaching officer, and two porters.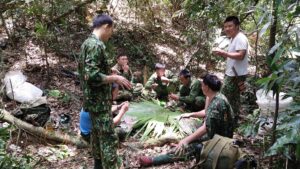 We gathered at the Khe Choang Forest Protection Management Station in Pu Mat National Park, Nghe An. We each carried water and enough food for our three-day journey. It took us two days to reach our destination. On the third day, we split into two groups to patrol border markers 434 and 435, important landmarks on the Vietnam-Laos border.
Our group to the marker 435 started early in the morning. The path was steep and long, winding through dense forests, making the journey longer. After walking 30 kilometers, we finally reached the border marker around 3:30 PM. We quickly raised the flag, took photos, and hurried back before dark. Though tired, we were happy to have reached our destination and found the marker safe and sound.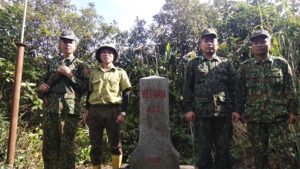 The journey back was dark, with only headlamps to light our way. Night patrols are tough, let me tell you! Sometimes, we couldn't see the path clearly and ended up getting lost and retracing our steps. Our water supply was running low, and by nightfall, we only had a couple of sips left, but we shared it, and I gave some to a thirsty soldier.
Then it started pouring rain. We encouraged each other as we walked for another 2 hours until we reached a resting spot. We were all relieved, and everyone joyfully exclaimed, "We've got water, we've got water!" We drank until our bellies were full. But that joy didn't last long because it was already 9 PM, and the rest of our group hadn't returned.
We anxiously waited until 3 AM and finally heard footsteps in the pouring rain. Two soldiers came back, but where were the other three? The two soldiers explained that the journey was too challenging, and they couldn't walk anymore. So they waited at a certain point, and the three others continued to the border mark 434. But even after waiting until 9 PM, the soldiers didn't show up. With no food and heavy rain, they decided to return. The slippery path tore their pants as they slid down the slopes.
We continued waiting, thinking, "They'll be back soon." But that "soon" turned out to be noon the next day. The three soldiers arrived at the border mark very late. The night was dark, the fog was thick, and it was pouring rain. They huddled under trees, each sharing a small plastic bag for cover, sitting and shivering until morning. That night, they were exhausted and hungry, with nothing to eat. It was heartbreaking to hear their stories.
Fortunately, all of us were safe. This experience will always remain one of the most memorable moments in my career as an anti-poaching officer.
Patrolling the forest is tough, but our footsteps keep marking these forest trails. Only when the forest is safe can the forest protectors like me and the rangers and soldiers find some rest.