In honor of World Pangolin Day on February 18, 2023, Save Vietnam Wildlife (SVW) is organizing a series of educational activities from February 13-18 at the Cuc Phuong Carnivore and Pangolin Education Center. These activities are designed to raise awareness of pangolins and wildlife conservation among students. Through fun and engaging games, SVW hopes to help students understand the alarming decline in pangolin populations and encourage them to join the conservation efforts.
The children, especially those in the buffer zone, have enthusiastically welcomed this initiative. In addition to exploring the first Carnivore and Pangolin Education Center in Vietnam, they will have the opportunity to directly observe and learn about these animals, which serve as education ambassadors that cannot be released back into the wild. The activities will also provide students with opportunities to develop their thinking and presentation skills while learning natural knowledge about pangolins – the only mammals in the world with scales. Some of the games included in the program are "The Way Back Home" game set, the Pangolin and Leopard Cat Puzzle, decoding crosswords, finding keywords, and animal folding.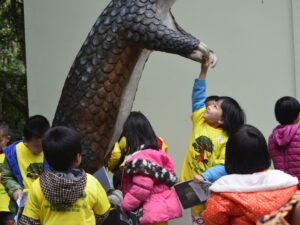 Students were free to explore at Education Center. ©SVW
Ms. Dinh Thi Thu Huong, the Educational Outreach Officer of SVW, stated that during the World Pangolin Day week, various activities are organized with different themes for visitors. This year, the celebration of Pangolin Day is focused on the younger audience, with games aimed at raising their awareness of wildlife, particularly pangolins, and fostering a love for nature in children.
One of the participants, Bui Thi Bao Yen, a student in class 6A at Cuc Phuong Secondary School, expressed her happiness with the trip. She and her friends were fortunate to participate in various games and acquire interesting knowledge about nature, especially pangolins. She also expressed her commitment to protect wildlife by not consuming or using products made from them after the trip.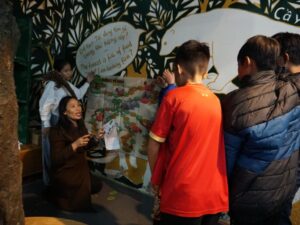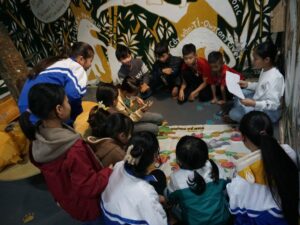 The students paid close attention to the instructions and engaged in playing "The Way Back Home" game set. ©SVW
After finishing the trip, Hoang, a student from class 8B at Cuc Phuong Secondary School, expressed his appreciation for the Carnivores and Pangolins Education Center, stating that it was beautifully designed with many informative images. Hoang had the opportunity to play most of the games displayed in the Kid's room, and his favorite was the Pangolin puzzle. As he enjoys thinking and imaginative games, completing the puzzle left him with a sense of satisfaction and accomplishment, admiring the beautiful and cute pangolin.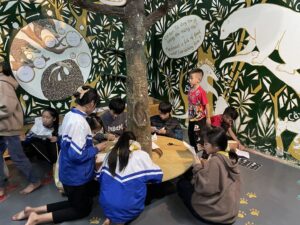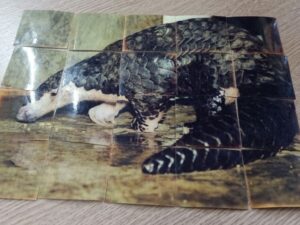 The students found joy in Pangolin folding and engaging with the crossword decoding game, which helped them acquire fascinating knowledge. ©SVW
The week-long celebration of World Pangolin Day has come to an end with meaningful and impactful activities at the Carnivore and Pangolin Education Center. Through visiting and participating in conservation-focused games, we have received positive feedback and support from visitors, especially students. The visitors have come to realize the importance of conserving and protecting wildlife, particularly endangered species like the pangolin. What's heartening is that many students have left messages of encouragement and gratitude for the conservation workers, who tirelessly rescue, care for, and release these animals back into the wild. Moreover, the students have committed to doing their part by following the "3 NOes": not eating or using products made from wild animals, and not supporting the illegal hunting, transportation, trading, or consumption of wild animals. Some students have even promised to return as volunteers for the center, contributing their efforts towards wildlife conservation with SVW.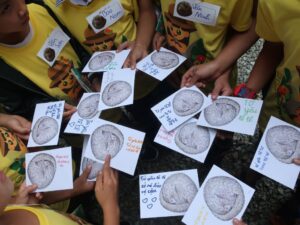 Students committed to act "3 NOes". ©SVW
On World Pangolin Day, SVW would like to extend its heartfelt gratitude to organizations, business, and individuals who have continually supported SVW's conservation efforts through donations, contributions of time and resources. We hope to continue receiving your attention and support as we move forward in our mission to protect wildlife. Your support is essential to our success, and we appreciate your ongoing commitment to our cause.