If you do not know, May is the month of the lovely Binturong. Binturong, also known as the civet, is a shaggy, hairy creature that lives mainly in Southeast Asia. It looks fierce but actually very shy. And especially, they also have a very special scent, which is likened to "animal version of Ham Huong". In this article, let's learn more about this species with SVW.
THE URINE OF THE BINTURONGS SMELLS LIKE POPCORN
Referring to the binturongs, it is definitely impossible not to mention the unique "perfume" that only this species has.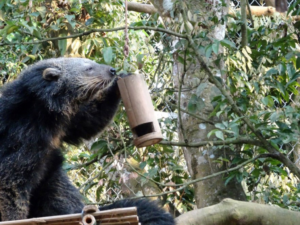 A binturong at SVW education center. Photo ©SVW.
The urine of binturongs has that special scent because it contains 2-AP compounds. It is also produced by the chemical reaction of sugars and amino acids in corn when exposed to high temperatures. Binturong squats to take a piss, allowing urine to stick to their legs and tails. The popcorn smell also emits fragrance with every step they take, helping this animal mark its territory and attract mates.
Until now, no scientist has been able to answer why this animal can produce a scent that can only be found when cooking.
FICUS ALTISSIMA CAN SURVIVE BY LIVING ON THE BINTURONG
The binturong is the only wild animal that is able to disperse the seed of Ficus altissima (Strangler fig) through digestion and excrement.
When binturongs eat seeds, a special yeast in their stomach will help break down the outer shell texture of the seeds, making it easier for the seeds to germinate after being discharged and meet the right conditions well suited. Therefore, the illegal hunting of this animal is threatening the survival of two precious creatures, not one.
If those lovely binturongs are gone, where can Ficus altissima rely on?
BINTURONGS = A LITTLE AWKWARDNESS + LAZINESS + SO MUCH LOVELINESS
If you have never seen a binturong before, imagine something like: a little awkwardness, a little laziness combined with a lot of loveliness is the perfect formula to describe the binturong.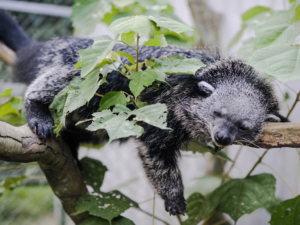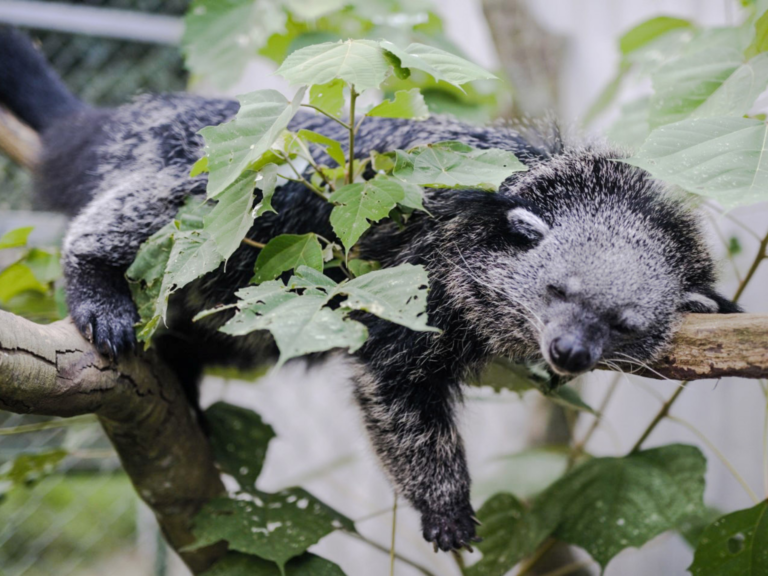 Photo ©SVW.
Having a strong and supple tail, a binturong cannot pass through branches or pounce on prey with its tails. When moving from tree to tree, binturongs are forced to be on the ground, crawl before climbing to the next branches. Because of their clumsy body and somewhat lazy personality, binturongs rarely succeed in hunting prey such as birds, lizards or rodents. They have to settle for easy-to-find insects or "vegetarian" foods like bananas or mangoes.
After having eaten, binturongs will find a suitable branch to sleep in. After a long and tiring day, you also want to "chill" on a tree branch and fall asleep like them, don't you?
IS A BINTURONG A CAT, A BEAR, OR A CIVET?
Seeing the binturong for the first time, many people will have the same question as above. Is it true?
Binturongs do not belong to the Felidae despite the fact that they have long whiskers on both cheeks and also have the habit of licking their own hair to clean their body or making a special sound to express their feelings.
They are also not related to bears, although they share some similar physical features such as an elongated snout, clawed paws and a slow gait on all fours.
Although binturongs are also not civets, they are forced to eat and digest the coffee beans to make the expensive "civet coffee" to sell to the tourists.
World Binturong's Day 2022 on May 14 is coming. Let's share this interesting information so that everyone can protect Binturong even more!
How can you help to save this adorable species?
Adopt Mr. B – our beautiful resident at the education center since 2007 for one year at here.