The school year 2020 – 2021 was over with full of chaos and adaptations in response to the impact of the COVID-19 pandemic, affected all teachers and students across the country. However, the Education officers of Save Vietnam's Wildlife (SVW), Pu Mat National Park, officers of Con Cuong District Department of Education and Training (DOET), teachers and students from all schools in Con Cuong had made great efforts and successfully implemented the activities of the Education Program to Raise Awareness of Nature and Wildlife Conservation in 4 communes in the buffer zone of Pu Mat National Park. The activities provided students with interesting knowledge towards nature and wildlife as well as arousing their love and pride of the beautiful Pu Mat National Park.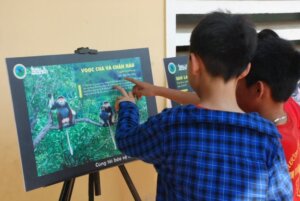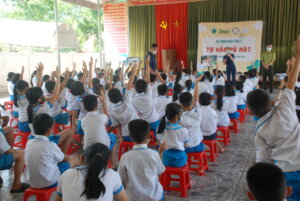 In the next school year 2021 – 2022, we continue to carry out other planed components of the School program for the students in the area. Educational activities will be organized in new and interesting way to bring the students more useful extra-curricular activities with fun. In the current complicated pandemic situation, we have developed and adjusted the program to suit the students as well as the general situation of the society. According to our plan, the next Conservation Events, activities of the Club "Join me to protect Pu Mat Forest" and Kid Presenters program will continue to be carried out for nearly 5,000 students in this new semester.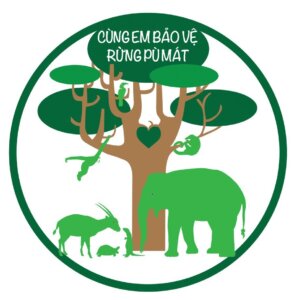 Accordingly, the Conservation Event 2 will be replaced by a different activity in response to the current pandemic situation. Instead of gathering all students to attend like the Conservation Event 1, a special game set with educational messages on illegal wildlife use, hunt and trade will be designed, produced, and distributed to all schools. Students will play this game in their classroom as an extra-curricular activity with the guidance of their homeroom teacher.
Ms. Le Thi Kim Ngan, the project coordinator, shared: "It is scientifically proven and an observed reality that children have a significant impact on thoughts, attitudes and behaviors of the adults in their family and community. Therefore, the project is designed to raise the role of students in promoting community participation in wildlife protection."
To achieve this, by means of the student club "Join me to protect Pu Mat Forest", each member will become a "Kid Presenter" to spread the love for nature by conveying meaningful messages and knowledge about nature and wildlife conservation that the students will gain from the program to their friends, teachers, parents and the people around them. The contents and messages will be delivered by students through broadcasting program at schools and villages, accompanied by educational publications distributed to each student to send home.
In addition to SVW's official website and Facebook page, images and information about the program's activities will be updated continuously on the Nature Conservation Education website: https://facebook.com/GiaoDucBaoTonThienNhien.svw.vn. We invite you to follow and spread the program's conservation education message to the community.
About the "Education Program to Raise Awareness of Nature and Wildlife Conservation in Pu Mat National Park":
The Conservation Education Program taking place at schools for children in the buffer zone of Pu Mat National Park is implemented by Save Vietnam Wildlife (SVW) in collaboration with the Ranger Department of Pu Mat National Park, under the sponsorship of the organization Welttierschutzgesellschaft e.V. (WTG).
The program includes 5 main activities:
(1) Social research on awareness, attitude and behavior of students towards nature and wildlife conservation before and after the program to evaluate the effectiveness of conservation education methods;
(2) Conservation Events as after-school activities;
(3) Student Club "Join me to protect Pu Mat forest" at schools in the buffer zone of Pu Mat National Park;
(4) Nature interpretation field trips to create opportunities for students to have close contact and understand more about nature;
(5) "Kid Presenters" program with contents to call for wildlife protection, broadcasting in schools and villages in the buffer zones of Pu Mat National Park.
The entire education program is implemented at Primary schools and Secondary schools in Yen Khe, Chau Khe, Mon Son communes and Con Cuong Town in Con Cuong District, Nghe An Province, Vietnam.