Fallen Star Pangolin Raffle 2023
Win a sterling silver pangolin necklace worth $260 by joining our raffle – only $5 a ticket! 100% of sales going directly to save the pangolin at SVW.
SVW x Fallen Star Jewellery
Launched on the occasion of the World Pangolin Day 2023, Fallenstarjewellery and Save Vietnam's Wildlife are joining forces – again – to raise awareness and funding for the causes we feel so passionately about; protection of wildlife and wild spaces and celebrating the beauty of nature and all it inspires in us! Cat at Fallen Star Jewellery makes incredible hand-made wire woven animals and has already run a raffle like this before, in 2020, which was hugely successful.
The pangolin you see in the photos is the piece that is to be auctioned and represents a baby pangolin on it's mother's tail.
This year's raffle is going to be even more special as the piece will be more valuable, the raffle will be held on World Pangolin Day (18th February 2023) and… the raffle will be held LIVE here at our sanctuary in Vietnam! Cat will be travelling to our sanctuary to volunteer in February and will take the opportunity to host the live raffle from our centre.
"Fallen Star is generously running another raffle with 100% of the sales again going to the rescued pangolins at SVW."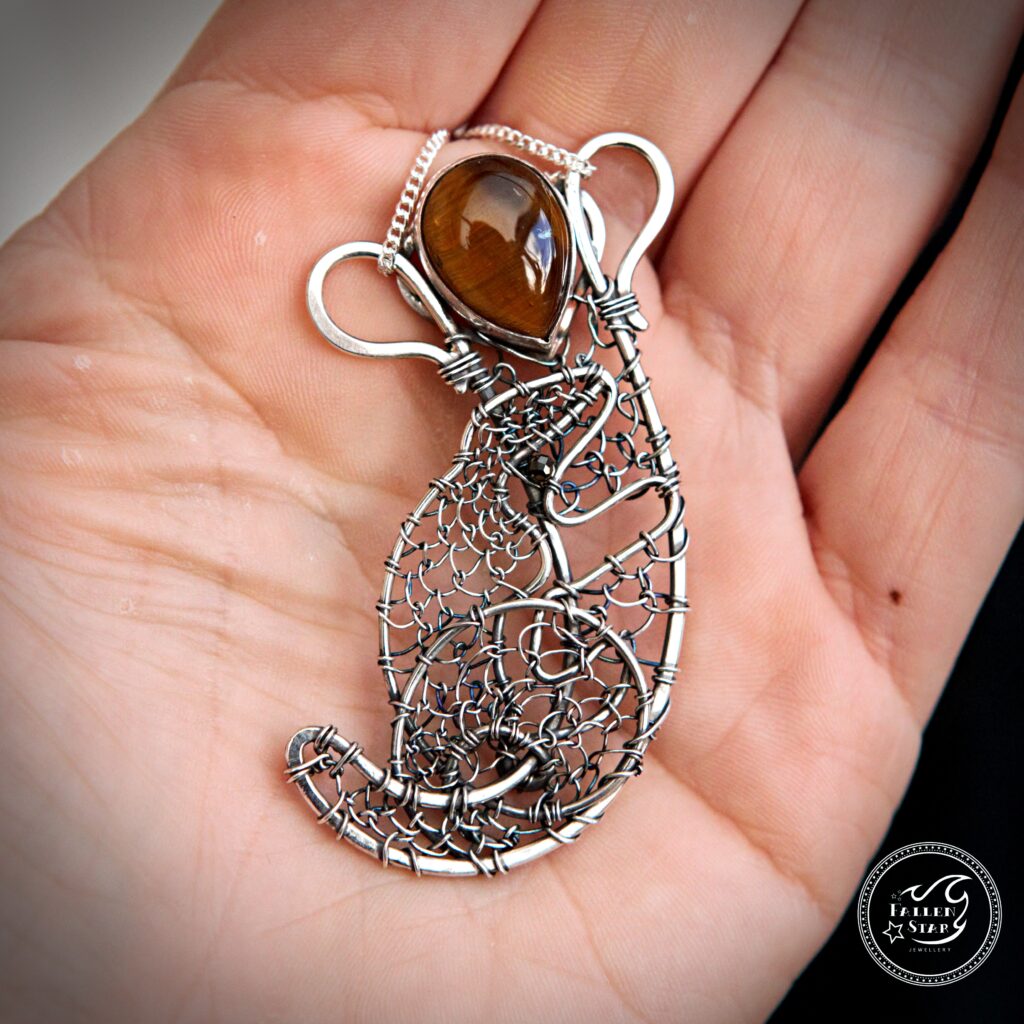 Donate $5 per raffle ticket (if you donate $20, you have bought 4 tickets)
Enter your name and email address. You will automatically be entered into the draw.
We will collect your names and number of tickets bought
Raffle will be drawn by Cat Phoenix 18th Feb LIVE HERE IN OUR SANCTUARY
FINAL PARTICIPANTS TO JOINING THE RAFLE DRAW LIVE
| | | | | |
| --- | --- | --- | --- | --- |
| Alec | Claire Boult | Grace Thomas | Joycelyn Maguet | Melodie Williams |
| Alison Neil | David Lingard | Harriet Ashton | Kim Alexander Wendt | Michele Kavanagh |
| Alistair MacGillivray | Denise Lowther-Pope | Harriet Ashton | Kimberley Buckley  | Morgan Bowden |
| Amanda Adams | Diane Kadomoto | Harry Sullivan | Krista Stuart | Rachel Shaw |
| Amelia Kellner | Elizabeth Altmann | Hayley Ayers | Laura White | Raymond Irvine |
| Barbara Roberts-Hornby | Elizabeth Parker | Heike Grebe | Lisa Doucette | Rosy Taylor |
| Brian Screaton | Ellen Leung | Helen Horsley | Louise Ellis | Sandra Rosso |
| Carrie Williams | Ellen Wenzel | Helen Morgan | Lucy Petryszyn | Trasna Palmer |
| Chau Walters | Georgette Taylor | James Bonner | Mary Anderson | Weng Yan Ng |
| Christine Owens | Gillian Pearson | Jenny Doran | Maxine Miles |   |
Fallen Star Jewellery
Fallen Star Jewellery was founded by Cat. She created this business because, having strong ethics, she has always found it difficult to find work that fit with that ethical code. She needed to create a business that worked for her: a business that doesn't just take but gives back to the incredible world we live in. Click the links here to see Cat's pages.