On Saturday 20th February, Save Vietnam's Wildlife in collaboration with Cuc Phuong National Park opened Vietnam's first wildlife education centre that focusses on pangolins, the most traded animal in the world. The Carnivore and Pangolin Education Centre is a crucial part of Save Vietnam's Wildlife efforts to fight the wildlife trade in critically endangered pangolins and other threatened carnivores in Vietnam. The opening occurred on World Pangolin Day, an internationally recognised day that offers the opportunity for pangolin enthusiasts and conservationists to join together in raising awareness about these unique mammals and their plight.
The event was attended by over 180 people and included representatives from the Vietnamese government, British Ambassador Giles Levers, dignitaries from international embassies in Vietnam, national conservation organisations and local schoolchildren. A highlight of the launch day was the making of large Pangolin Puzzle by all attendees and local school children performing fun conservation based activities to celebrate World Pangolin Day.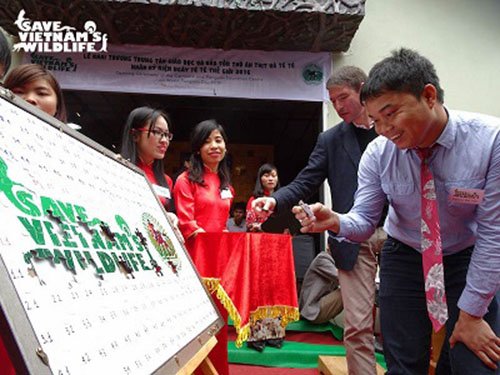 Mr. Đỗ Văn Lập, the Vice Director of Cuc Phuong National Park who gave the opening address stated that
"Cuc Phuong National Park is delighted to collaborate with Save Vietnam's Wildlife in this new education venture and it will be an important addition to the many conservation activities currently offered at the park"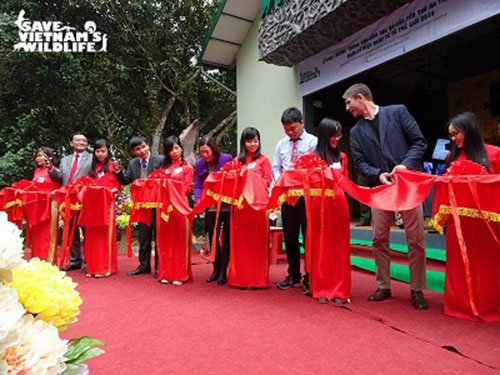 Ho Thi Kim Lan, Education Manager of Save Vietnam's Wildlife expressed how education is an important arm of Save Vietnam's Wildlife mission to ensure a secure future for Vietnam's wildlife:
"Our Carnivore and Pangolin Education Centre was devised in response to the urgent need for engaging wildlife education in Vietnam. Education is key! The innovative and interactive atmosphere of the Education Centre will help a wide range of communities enjoy discovering and learning about these unique creatures, understand the threats they are facing and then hopefully mobilize to save these incredible species from extinction."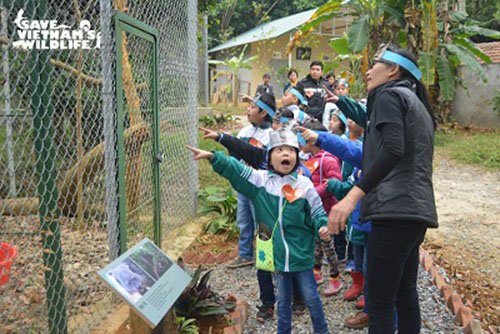 Save Vietnam's Wildlife' Carnivore and Pangolin Education Centre is located in Cuc Phuong National Park, Ninh Binh Province and will be open to the public after the 20th of February.