In the same situation as many of the animals we have rescued, Hoi An is the 2nd Binturong Education Ambassador at the center. 
Hội An arrived at the CPCP in December, 2010. She had been kept in a local private zoo for a long time in Quang Nam. Quang Nam Forest Protection Department and SVW rescued and brought her here. 
Being fed an unbalanced diet of rice, she was quite overweight at 25kg. To help the weight and improve her health, her starch intake was reduced and the daily diet was changed to meat, fruits, a binturong's natural food.
Hoi An has returned to good health and enjoys sunbathing on the bamboo platform in her enclosure. Unfortunately, after many efforts to restore wild instincts she is still overly familiar with humans, so can't be released back into the wild anymore. 
However, not all animals are lucky enough, like Hoi An, to be transferred to our center. Many of them are victims of the animal circus, being chained and locked in cramped cages, abused with a whip, trained to perform difficult tricks to entertain humans. Therefore, please do not watch or support Circus activities from wild animals.
WITH ONLY $50, YOUR SYMBOLIC ADOPTION SUPPORTS SVW REHABILITATION EFFORTS FOR HOI AN AND OTHER RESCUED BINTURONGS
Robin Dujardin
As a gift for my binturong loving girlfriend 🥰
Lauren Bilboe
To my lovely daughter Lauren for being so compassionate to animals xx
ADOPT VIA BANK TRANSFER (VND) IN VIETNAM​
Bank: Vietnam International Bank (VIB)
Account number: 345345345
Account name: SVW
Transfer content: Full name / Organization – Adopt Hoi An – Email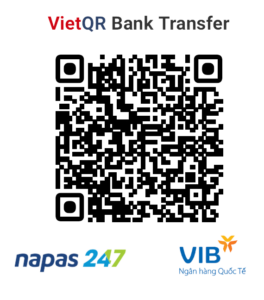 Releasing rescued animals doesn't happen overnight, and unfortunately our educational animals aren't ever going to be released due to the injuries they have suffered as victims of the illegal wildlife trade. With your symbolic adoption, you will support us to provide excellent care for not only Hoi An and permanent residents at our place. This can include:
YOU'LL GET AN ADOPTION PACKAGE LOTS OF LOVE FROM HOI AN
YOU WILL RECEIVE THE PACKAGE SENT DIRECTLY TO YOUR EMAIL OR THE PERSON'S EMAIL YOU DEDICATE THIS ADOPTION TO, WITHIN 1-3 WORKING DAYS.