Sáng was voluntarily handed over to SVW by a local person who had bought him from a restaurant in Hanoi three months earlier. Despite the injury on his leg, Sáng was so wild and aggressive that the buyer could not approach him to take care of him.
Sáng nearly lost half of his left forelimb and moving was a nightmare for him. As a result, he cannot return to the wild and is now living in the naturalistic long term enclosure under dedicated care of all the keepers.
Transferring wild animals to rescue centres is giving them another chance. However, do not buy animals from hunters and traders, because this will encourage them to keep hunting and trading wildlife. Instead, whenever you see trafficked wildlife or their products, you should notify the relevant authorities or wildlife conservation organizations to get the best assistance.
When you symbolically adopt Sáng for one year, you are helping to save the Leopard Cat – a wild species of cat that is now threatened in Vietnam.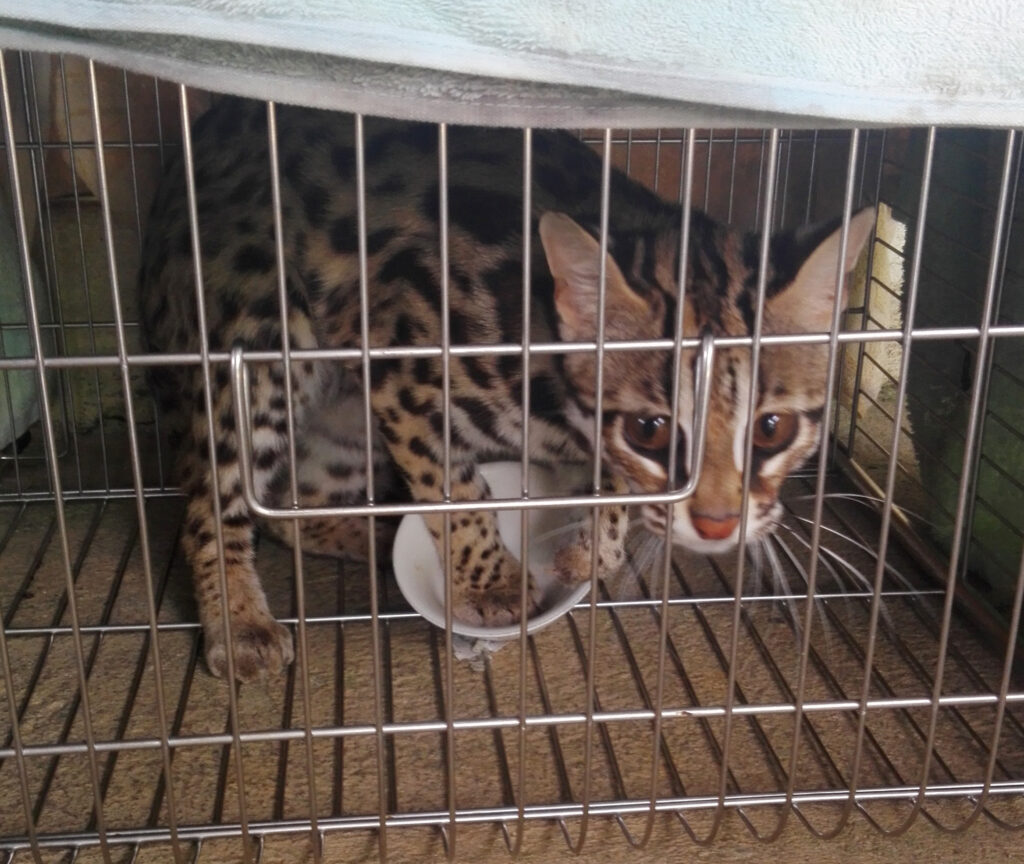 WITH ONLY $50, YOUR SYMBOLIC ADOPTION SUPPORTS SVW REHABILITATION EFFORTS FOR SÁNG AND OTHER RESCUED LEOPARD CATS
Anonymous
Anh Nguyen
This is not much, but I hope my little help can somehow contribute to improving these wild livings better
Releasing rescued animals doesn't happen overnight,
 and unfortunately our educational animals aren't ever going to be released due to the injuries they have suffered as victims of the illegal wildlife trade. With your symbolic adoption, you will support us to provide excellent care for not only Sáng and permanent residents at our place:
 This can include:
YOU'LL GET AN ADOPTION PACKAGE
& LOTS OF LOVE FROM SÁNG
YOU WILL RECEIVE THE PACKAGE SENT DIRECTLY TO YOUR EMAIL OR THE PERSON'S EMAIL YOU DEDICATE THIS ADOPTION TO, WITHIN 1-3 WORKING DAYS.